Clé de Maison
is no stranger to the interior design panorama. Two times in a row winner of the
International Design & Architecture Awards
by design et al, in 2021 and 2022, the Lithuanian turnkey interior design studio is specialised in exquisite luxury interiors of modern classics and Neo Art Deco style.
Debuting Laskasas' Not-So-Secret Diary, this special interview brings you an x-ray of Clé de Maison and the interior design industry from the unique vision and perception of Vaida and Indrė Žemaitytė, Founder/Art Director and Partner/Marketing Director, respectively.
"STICK TO WHAT YOU LOVE FOR TOMORROW, NOT JUST FOR TODAY."
Vaida Žemaitytė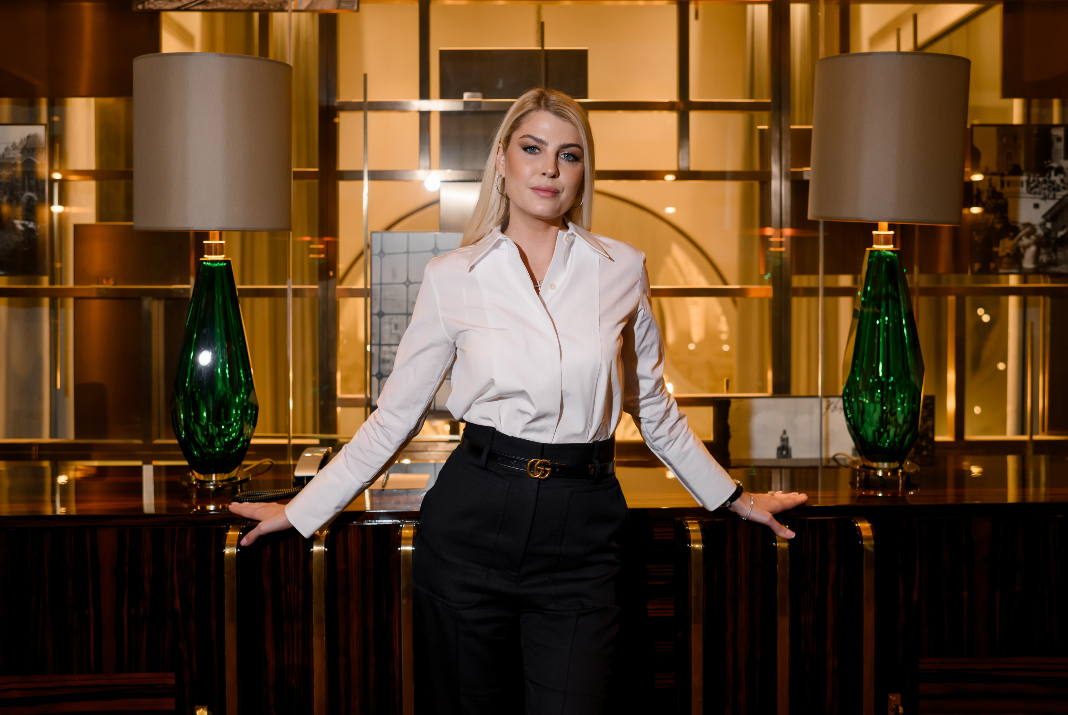 Source: Clé de Maison | Vaida Žemaitytė.

Tell me about Clé de Maison's beginning. How did it all start?
Vaida: Clé de Maison was a brainchild of me, Vaida Žemaitytė. I graduated with a bachelor's degree in interior design. My first official job after graduation was at my professor's architectural firm. Now I can say that she was my mentor and somehow encouraged me to start my own career.
For several years I worked individually and, in 2016, opened my own design studio specialising in residential design. It has since grown from my home office to a whole team of designers and agencies, representing top furniture & lighting fixtures manufacturers and being recognised as one of the most respected, creative and original Lithuanian luxury interior designers working worldwide today. I am fortunate to have fantastic clients and team – they help to bring my idea of design to a larger audience.

We have developed a diverse portfolio of exceptional projects from across the globe. Our ability to work closely with our clients, incorporating their needs while creating individual, functional, effective and timeless interiors, has fostered a discerning clientele.

Our technical and creative range incorporates prime residential homes and developments, high-end offices, boutique hotels, and restaurants. No matter the scale of the project, for each we craft an entirely distinct concept and design narrative aligned with our client's vision, ensuring that no project is ever the same.
Where does your design inspiration come from?
Vaida: Inspiration can be found almost anywhere, from set design and magazines to social media. But nothing beats seeing things in person, so hotel and restaurant design, museums and fairs are a big one for us.
There are two main things that give us the most inspiration when we're in a place or looking at an image: the "feeling" and ambiance, and then the material combinations, contrasts and details.
How would you describe your personal design style?
Vaida: We like to call it - Thoughtful luxury.
We are definitely classic contemporary, but I would also say we are always updating our own style and sometimes even giving it an eclectic edge.
"WHETHER IT'S CLASSIC, CONTEMPORARY, MASCULINE OR ECLECTIC, THE BESPOKE DESIGN REMAINS INTEGRAL TO OUR APPROACH."
What's your design philosophy?

Vaida: Our signature style is classic contemporary, but we pride ourselves on adapting to complement every architectural style and client, drawing inspiration from the location, building vernacular and the client's taste and lifestyle. So, whether it's classic, contemporary, masculine or eclectic, the bespoke design remains integral to our approach.
Every facet of a project can be custom-made to exact specifications, and that's what makes each one unique.
What makes a house a home?
Vaida: We have created umpteen homes for clients over the years, all beautiful in their own right, but the most striking characteristic is the energy the clients that live in it bring to it.
Nothing can replace the energy of a happy family home, a place to bring people together and create memories.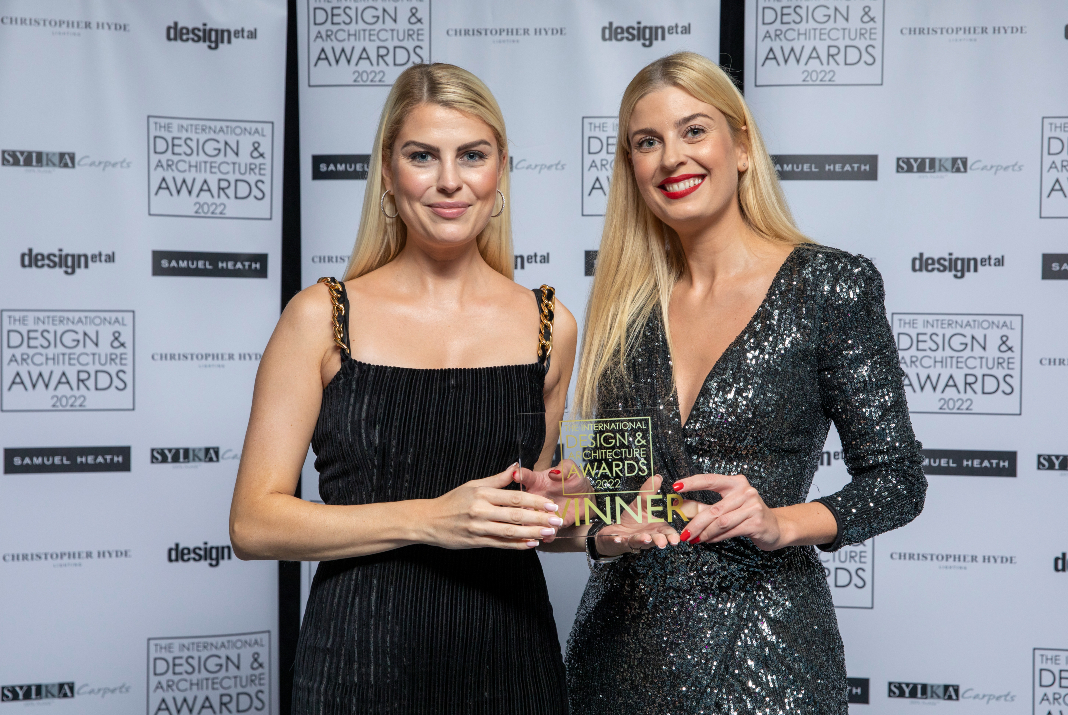 Source: Clé de Maison | Vaida and Indrè Žemaitytė at the International Design & Architecture Awards 2022.

What is one of the most memorable moments of your career so far?
Vaida: There are so many memorable moments. One, definitely would be setting up my own company from the home office to a bigger scale, which has been both incredibly scary and rewarding. I think most entrepreneurs feel this way.
Also, winning our first international award and being completely overwhelmed by the honour and, of course, the look on every client's face when they get to walk into their finished property for the first time. I remember the way every single client looks on handover and that really is unforgettable for me.
"IT'S REALLY IMPORTANT TO STAY TRUE TO WHAT IS RIGHT FOR YOU AND TO KNOW WHAT THAT IS."
What's your top interior design tip?
Vaida: Stick to what you love for tomorrow, not just for today. It's so exciting to design your own home and to have the luxury of using an interior designer to do it with and it's easy to get carried away and try out too many new looks that you might not want to live with over the years.
I think it's incredibly important that your home is right for you and your lifestyle and that has to be your focus rather than the latest trends and influences. That isn't to say that you shouldn't be interested in all types of design but, like anything else, it's really important to stay true to what is right for you and to know what that is.
If someone reading this was about to begin their own home redesign project, what would be your best advice to them?
Vaida: Get your overall concept very clear to keep you on track. A big trap people fall into is they get carried away and lose focus of the project as a whole. We do very extensive concept image boards for every area at the start of a project to establish the design principles from finishes and detailing through to the furniture and styling. We then assess them together to see how the house feels as a whole. This stage shouldn't be rushed and should feel true to you.
Lighting design is absolutely essential to the success of a project and so often doesn't get the attention it needs at the start. Once we have finalized the space planning we will then work out the furniture layout. This allows us to design the electrical layout and lighting, such as floor boxes for lamps in the middle of the room. Lighting should be layered on different circuits with a combination of low-level lamps, wall lights, pendant lights and integrated LED lighting in joinery where possible, giving you options for different moods.

Don't hesitate to ask for a consultation from the designer about the right floor plan and layout event you are still considering buying the property. Right space planning, according to the client's needs, is one of the most important stages of the whole interior.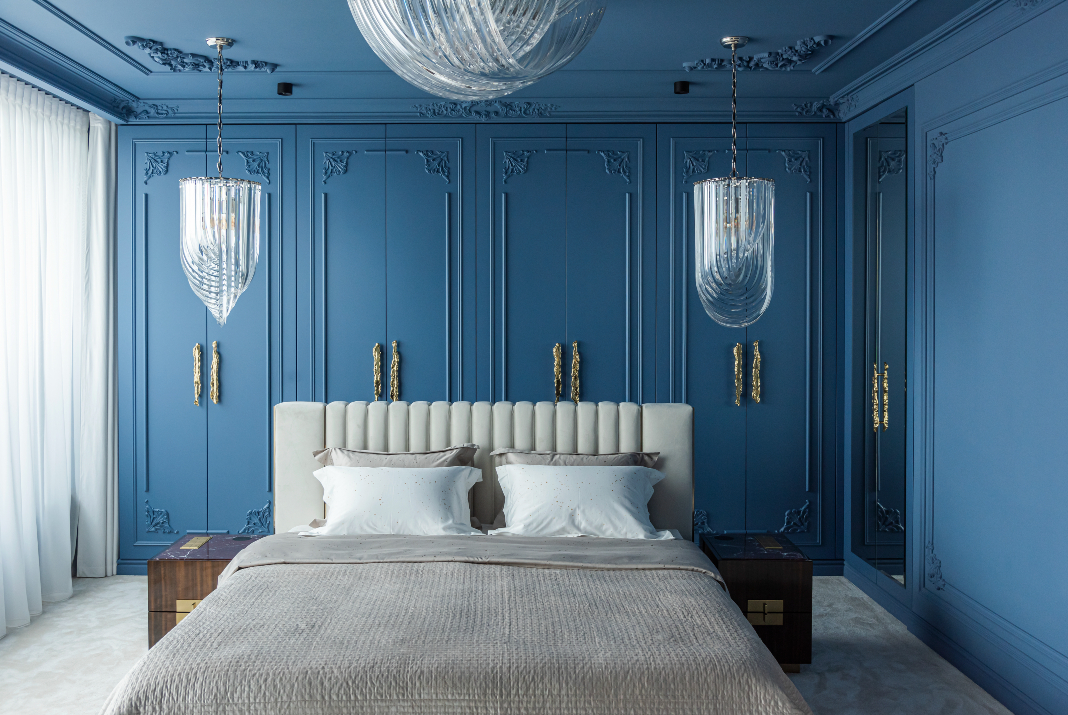 Clé de Maison's project with Laskasas' Lauren bed and Lady bedside table.

Each project has its singularities, and each client is different. How do you approach each one to understand their vision and bring it to life?
Vaida: One of the most important steps in the creative process is asking the right questions and getting to know the client, their needs and wants. This will entirely influence the project. Understanding both the uniqueness of the client and the property's history will determine the concept and allow to tell an individual and authentic story allowing for the client to embark on an exciting and creative journey.
Some clients prefer turn-key solutions and are happy to sign off on major decisions and others enjoy the creative process itself and collaborate on each step of this adventure. But ultimately, they trust our expertise and advice which I am very grateful for. By managing expectations, you will not disappoint your clients.
What are some current design trends that readers should know about?
Indrè: We have noticed a big shift in many ways since the pandemic started. Not just relating to Covid but a heightened consciousness when it comes to how people choose to live their lives in general and therefore spend their money.
Sustainability and ethics of materials and products are now at the forefront of people's minds in a way we haven't seen before.
Great design is not just about spaces that look fabulous, but about spaces that tell a story and meet the needs of the people living there. Nowadays, people are seeing a lot more organic and environmental approaches to design and using materials that are timely and lasting rather than on-trend. Craftsmanship plays a very big role in all design processes.

In the COVID-19 era, home offices will now be the norm as home has become a sanctuary where we need to blend work and relaxation. Home offices are at the forefront of most people's minds and it has never been clearer the impact that our home environment has on our moods, well-being and productivity.
What's important to Clé de Maison when choosing a furniture supplier?
Indrè: One of our studio's strengths is the ability to suggest to our clients a wide range of luxury furniture and lighting fixtures brands. We do accurate due diligence when choosing the brands for our portfolio. The manufacturer has not only to suggest beautiful designs but also top quality and right attitude pieces to the client or partner.
We often go to the factories and showrooms to see the latest collection and check the production of the items for our projects. The more closely we participate in all manufacturing processes and share them, the more our clients trust us.
"AWARDS ARE VITAL TO OUR INDUSTRY, THEY ARE A PLATFORM TO CELEBRATE THE NEW IDEAS AND INNOVATIONS FROM LEADING DESIGNERS AROUND THE WORLD THAT ARE SHAPING THE FUTURE OF DESIGN."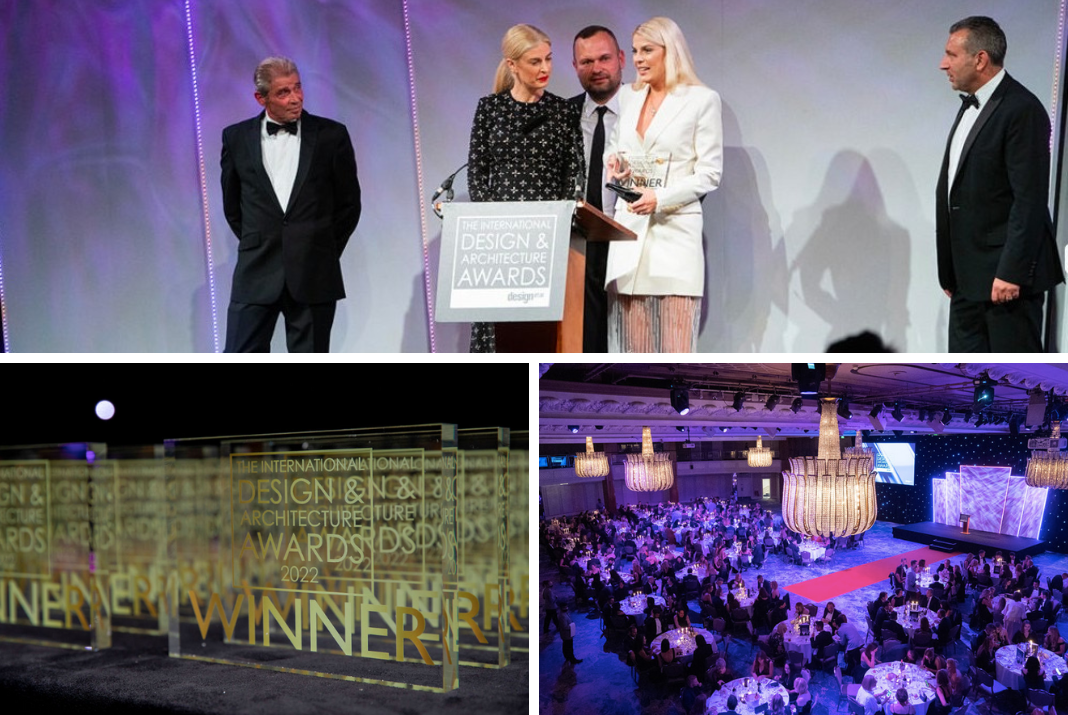 Source: Clé de Maison | Vaida and Indrè Žemaitytė at the International Design & Architecture Awards 2022.

Clé de Maison's work was recognized at the International Design & Architecture Awards in 2021 and 2022. How does it feel to win this prize twice?
Vaida: It's a fantastic recognition to receive and we are extremely proud to have been nominated and won this award — twice. It's a great opportunity to have your work recognised not only through your clients but shared by your colleagues and people working in the same environment. It's also a valuable opportunity for networking and meeting other talented designers and architects from all over the world.

Awards are vital to our industry. They are a platform to celebrate the new ideas and innovations from leading designers around the world that are shaping the future of design.

After winning for the first time, we felt so many expectations coming to our side not only from our clients but firstly from us personally. So the second win was kind of proving that Clé de Maison projects are worth competing with top interior designers and architects from all over the globe.
The 2021 prize represented the first time a Lithuanian company won such an award. What does this mean to you and the team as Lithuanian citizens?
Vaida: It's a huge honor to be the first Lithuanian company to win an award in this contest! The International Design & Architecture awards can be compared to the film industry Oscar awards.
The winning project of 2021 had Laskasas pieces in it. What did the Prestige dining table, the Lauren bed, the Lady bedside table, and the Rosie dressing table add to the scheme?
Vaida: In this particular project, the Laskasas' Prestige dining table becomes one the most recognizable items in the whole apartment. Luxurious and decorative legs serve as an accessory.
As the Lauren bed stands in the middle of the bedroom and is walkable around, the decorative Ebony Macassar back panel gives the accomplished luxurious look of the furniture piece.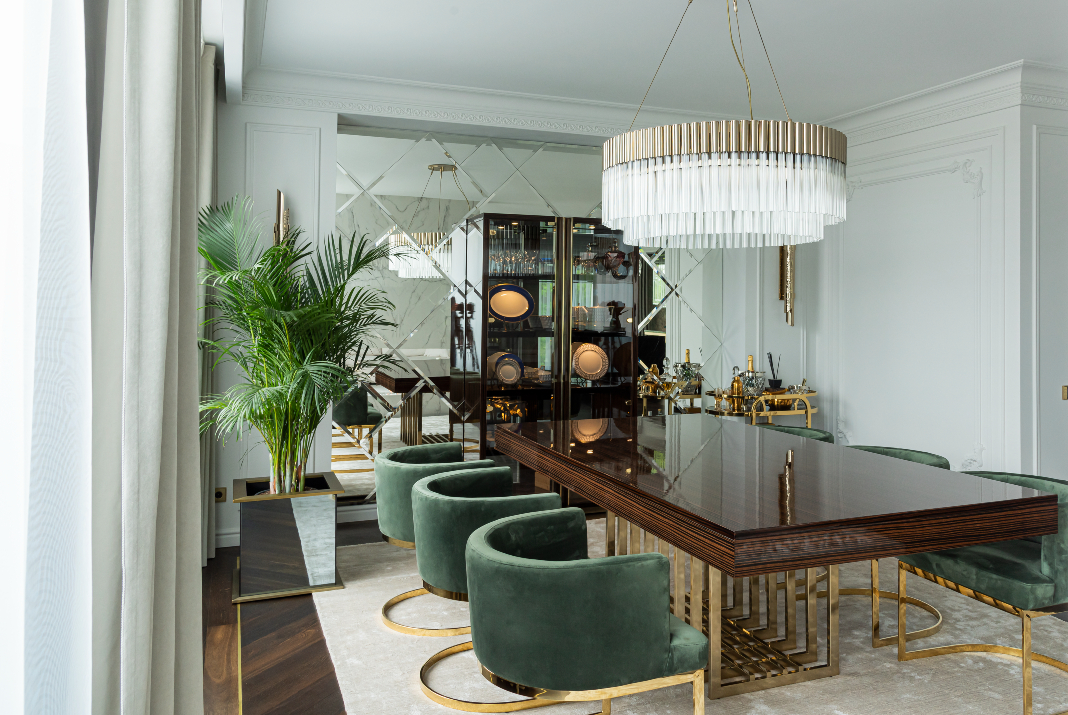 Clé de Maison's project with Laskasas' Prestige dining table.

To close, what about Laskasas – which piece do you love the most and why?
Indrè: Our top products are: Lauren bed, Lady bedside table and Fletcher modular sofa.

Laskasas' Lauren bed, Lady bedside table and Fletcher sofa.