Aside from being a beautiful season, fall includes some wonderful festivities, such as Thanksgiving. It's a cosy time packed with family activities, tasty sweets, and bright colours. It's only natural to want to replicate this period's look in your interior design.
Despite being a traditional American holiday, the spirit of Thanksgiving is around giving and receiving, expressing gratitude for what we have, and focusing on family. It's a good chance to use some of your favourite decorations.
Are you unsure where to begin with Thanksgiving decorations? If you're hosting the big Thanksgiving lunch or dinner this year, you should start thinking about how you want to decorate your home! Continue reading to learn more.
Thanksgiving Decoration Ideas - Room by Room guide
Living Room Thanksgiving decoration ideas
After the dining room, the living room, is the most popular space during Thanksgiving. Turn this space into a joyful yet classy meeting spot to socialize with loved ones in style.
1. THROW PILLOWS & BLANKETS IN FESTIVE HUES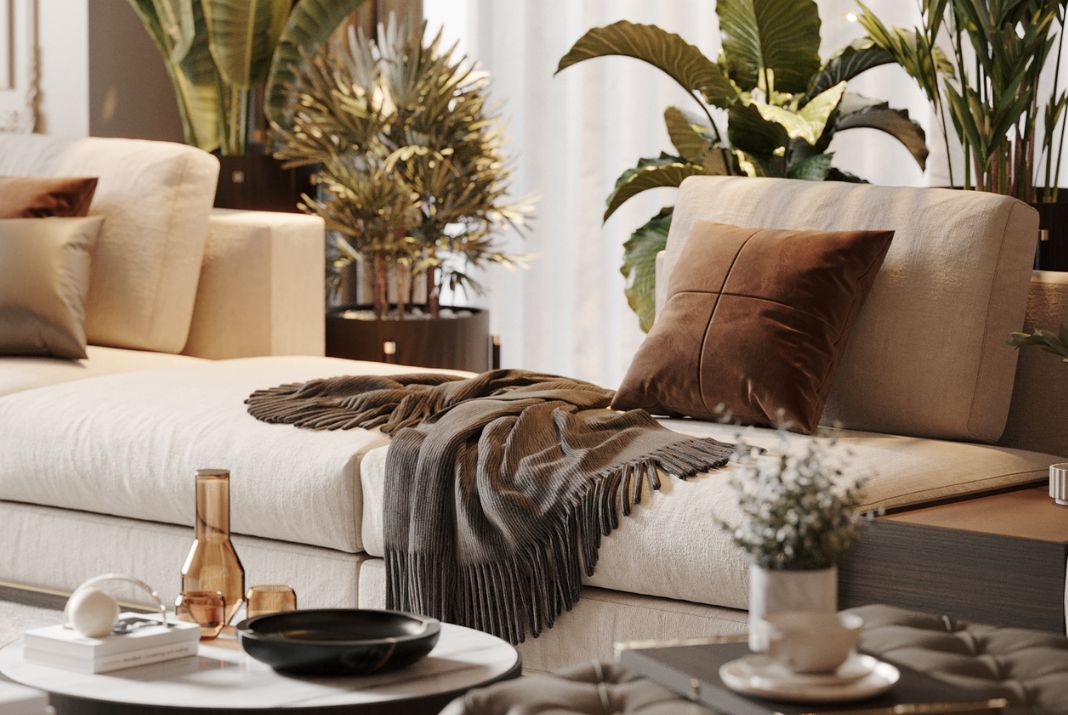 Thanksgiving decorations should emanate those cosy autumn vibes. Few things do it better than fresh throw pillows and blankets in seasonal colours like brown, orange, and khaki.

2. FOCUSING THE FIREPLACE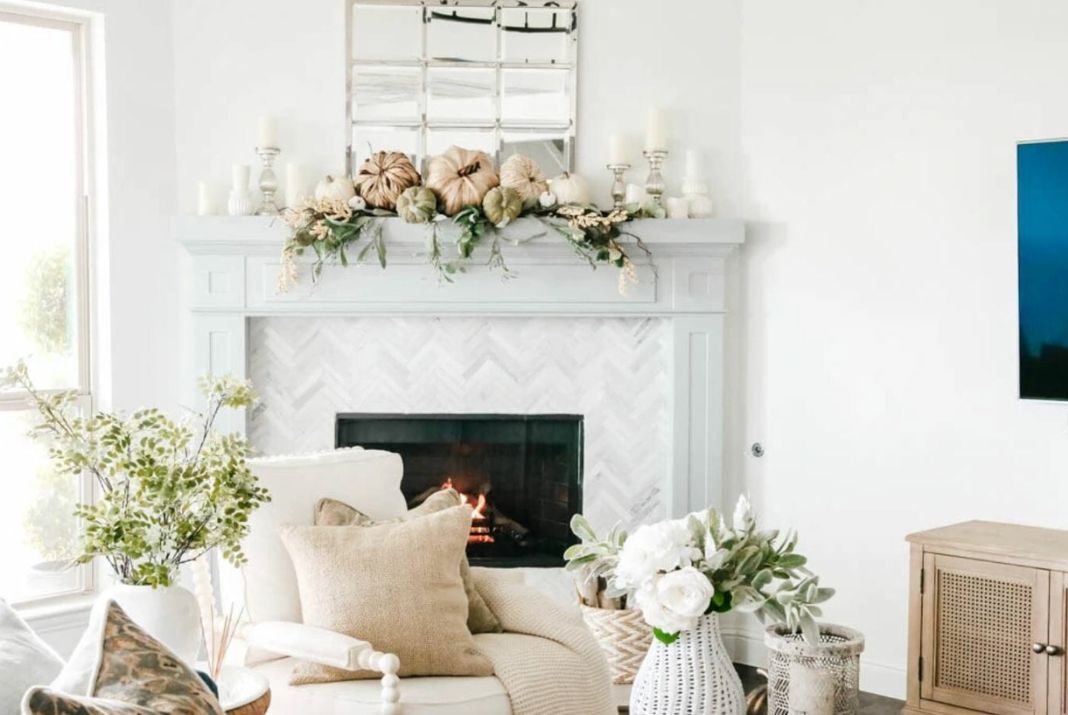 Around the fireplace, a collection of Thanksgiving house decorations looks fantastic. Arrange the fireplace with seasonal items such as pumpkins, dried flowers, and candles. A sepia family photo would also look fantastic.

3. BRING THE OUTDOORS INSIDE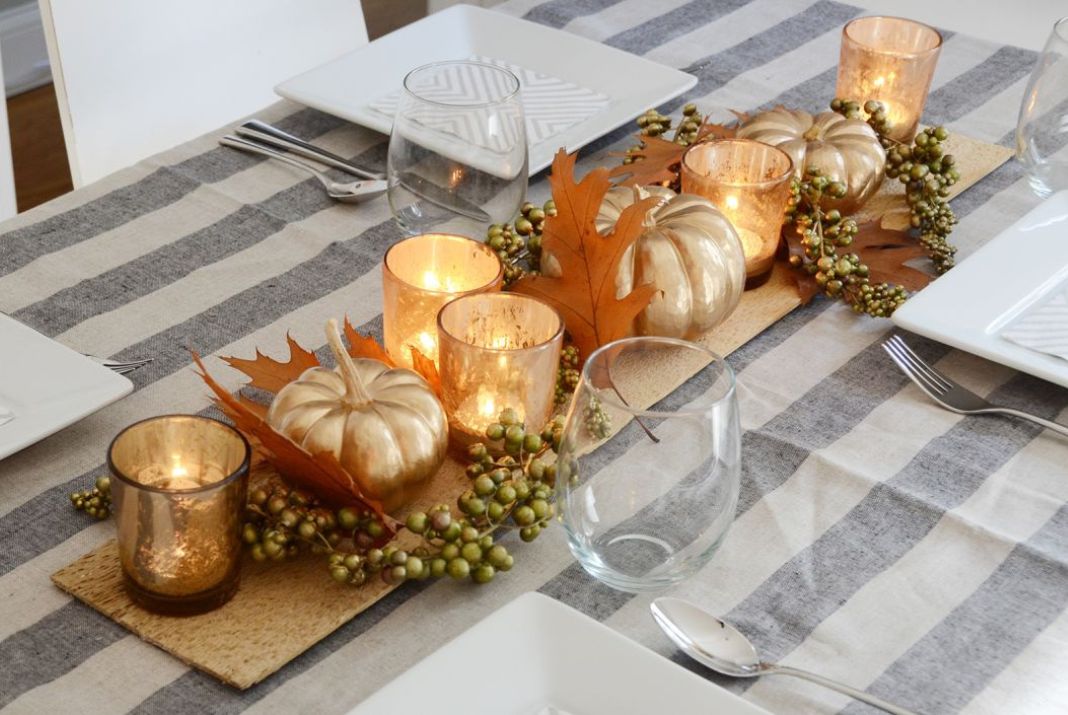 Look to nature for inspiration. Wreaths made of fall leaves, wheat, and red berry branches are ideal for Thanksgiving wall décor. Large branches in fashionable planters can create eye-catching living room decorations.

4. CANDLES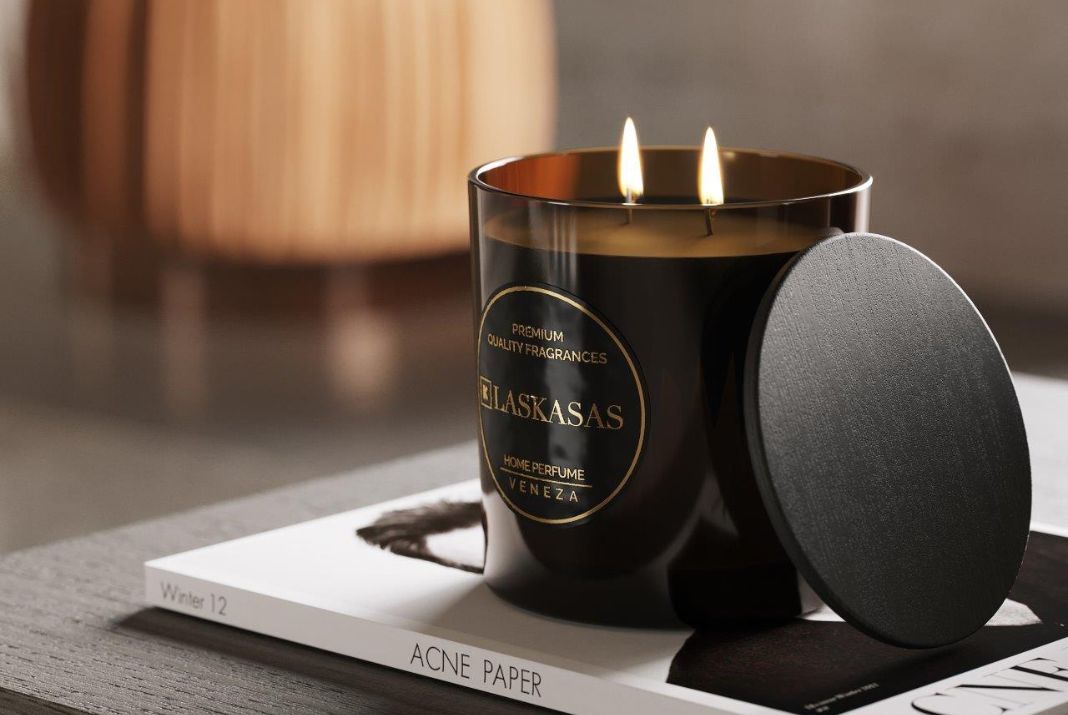 Thanksgiving candle decorations can be used to adorn the coffee table and add flair to the living area. Make a centrepiece out of different-sized candles in separate holders.

5. FALL BAR CART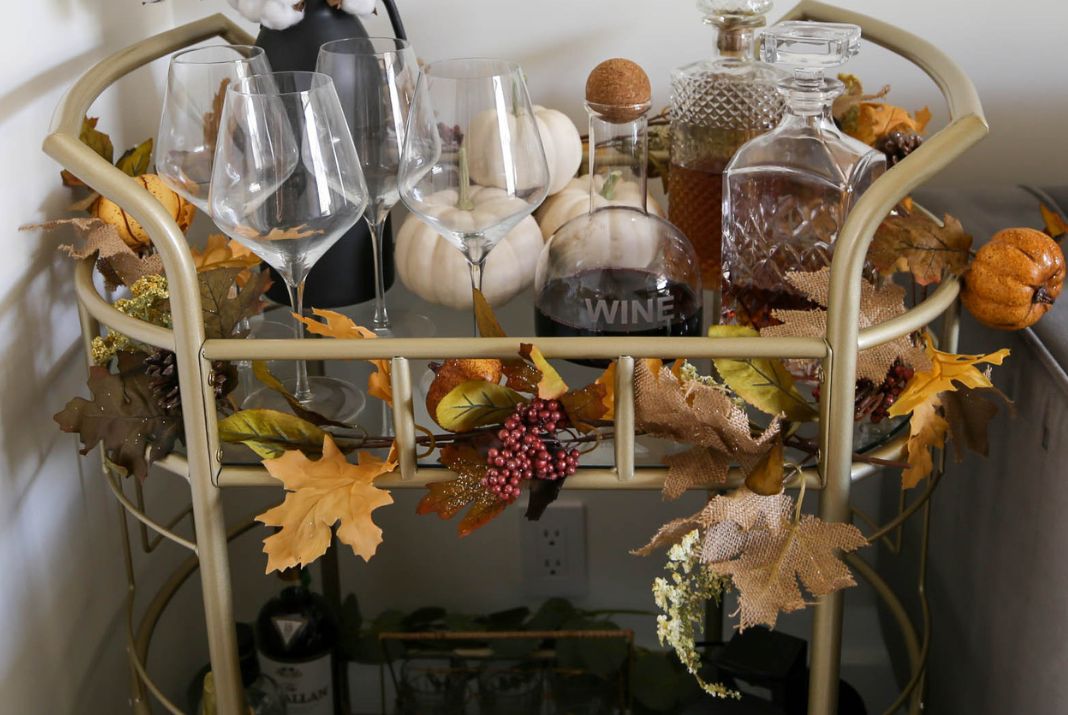 Bar carts are among Thanksgiving living room décor ideas. To amaze your guests, display bar equipment such as Moscow Mule glasses and a glass pitcher of apple cider. Seasonal fruit, succulents, and candles are also wonderful extras.

Living Room Thanksgiving decoration ideas
1. An amazing tabletop
The food for the big Thanksgiving day requires a juggling act, but nothing inspires greater confidence than a beautiful canvas for the show-stopping meal display. A well-set tablescape adds happiness, comfort, and an autumn bounty to the festivities.
2. CENTREPIECE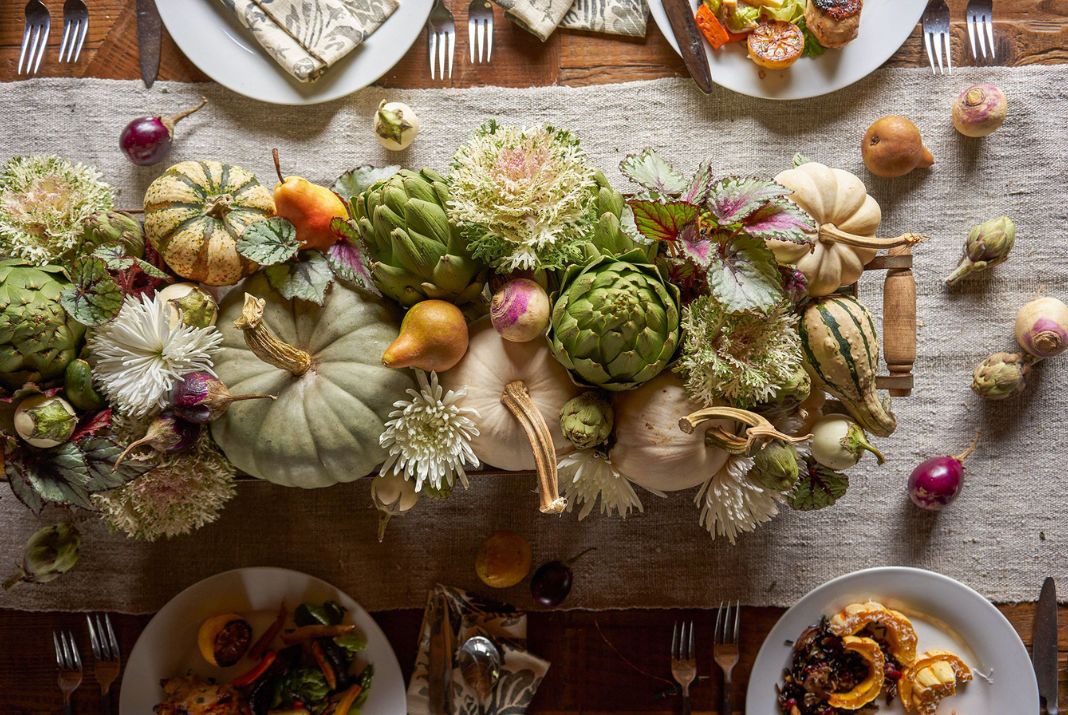 To decorate the dining table for Thanksgiving lunch, everyone needs a Thanksgiving centrepiece! Your centrepiece should be large enough to draw attention while without being overpowering or distracting from the cuisine! Check that it is low enough so that visitors can see across the table.

3. THANKSGIVING PLACE CARDS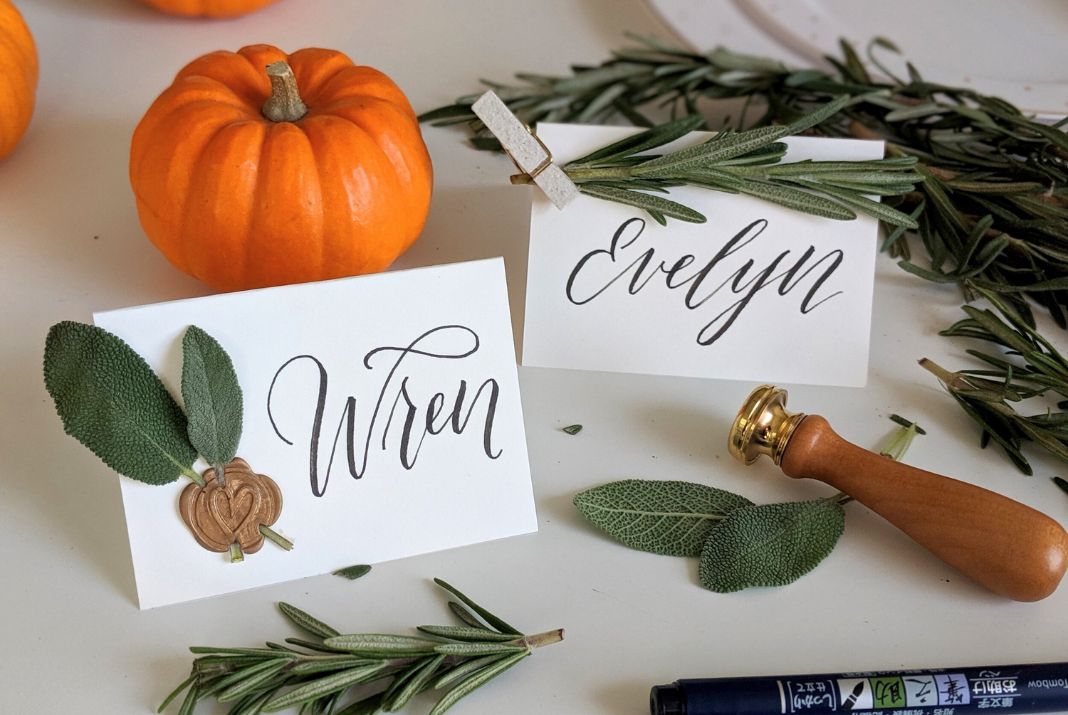 Assign each guest a place to sit by using Thanksgiving place cards. You can DIY your place cards or purchase some beautifully crafted premade ones!

4. AUTUMN COLOURS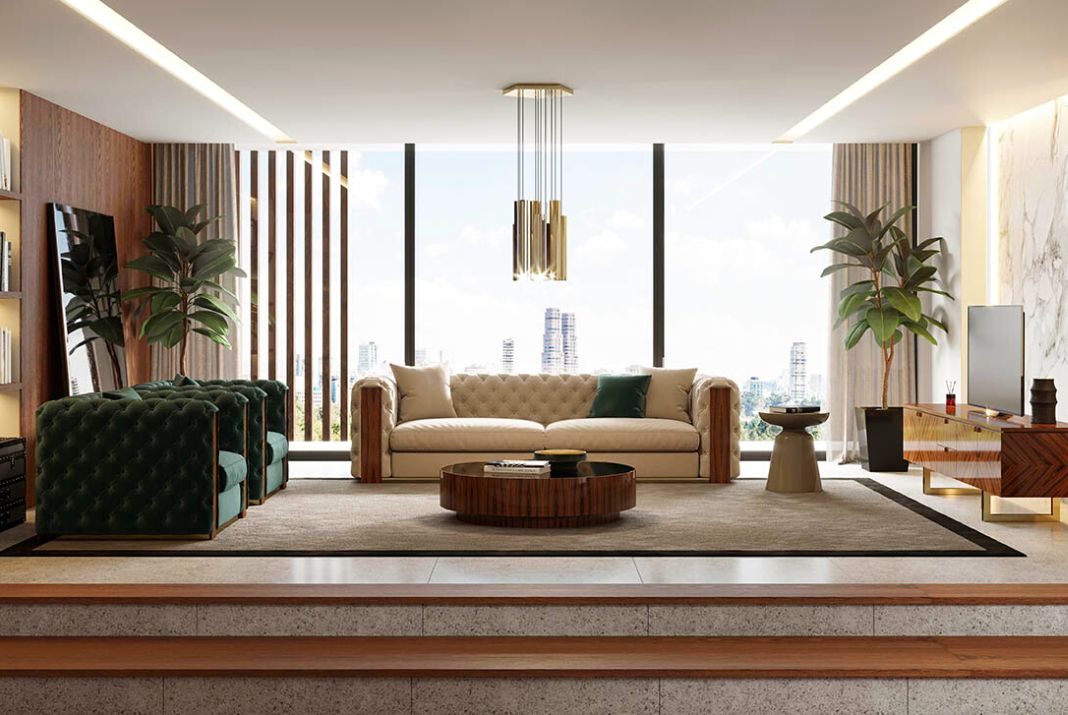 Embrace seasonal produce in both your tableware and your decor, in the likes of designer CeCe Barfield. "Thanksgiving is all about rich layers and an autumnal palette," Barfield says. "Consider decorating your table with gourds and other vegetables as a nod to the season."

5. PUMPKINS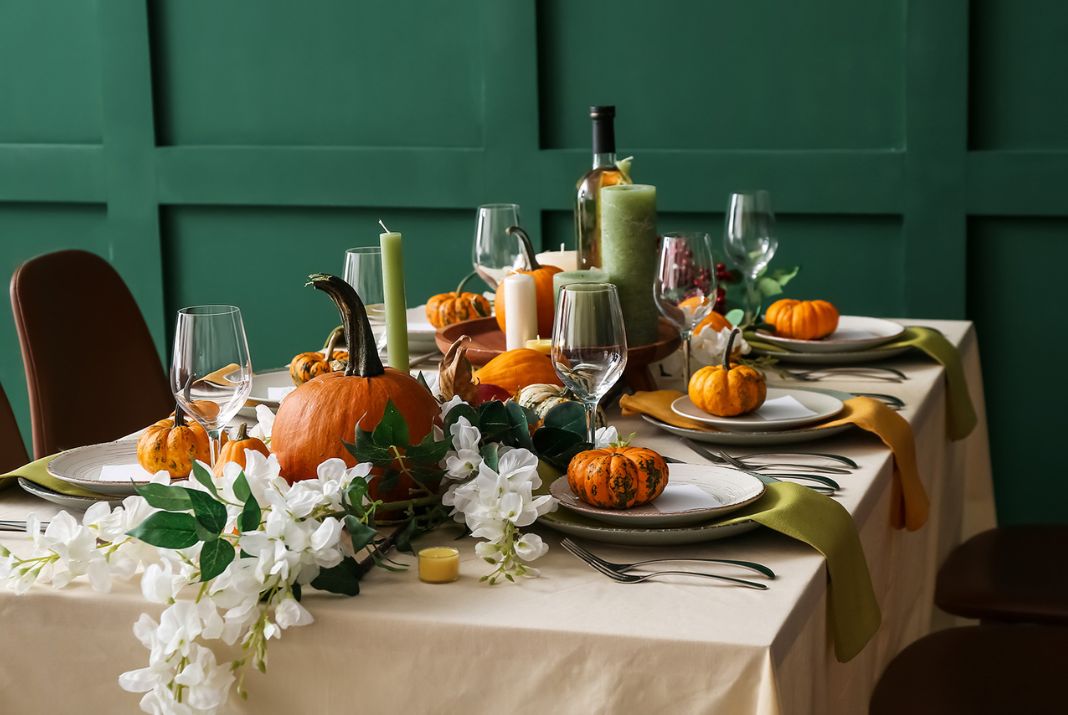 Pumpkins are a popular fall decoration and they work perfectly for Thanksgiving, too! You don't have to go for a bright orange one, either. Plenty of neutral-coloured pumpkins help you subtly decorate for the holiday!

6. MISMATCH TABLEWARE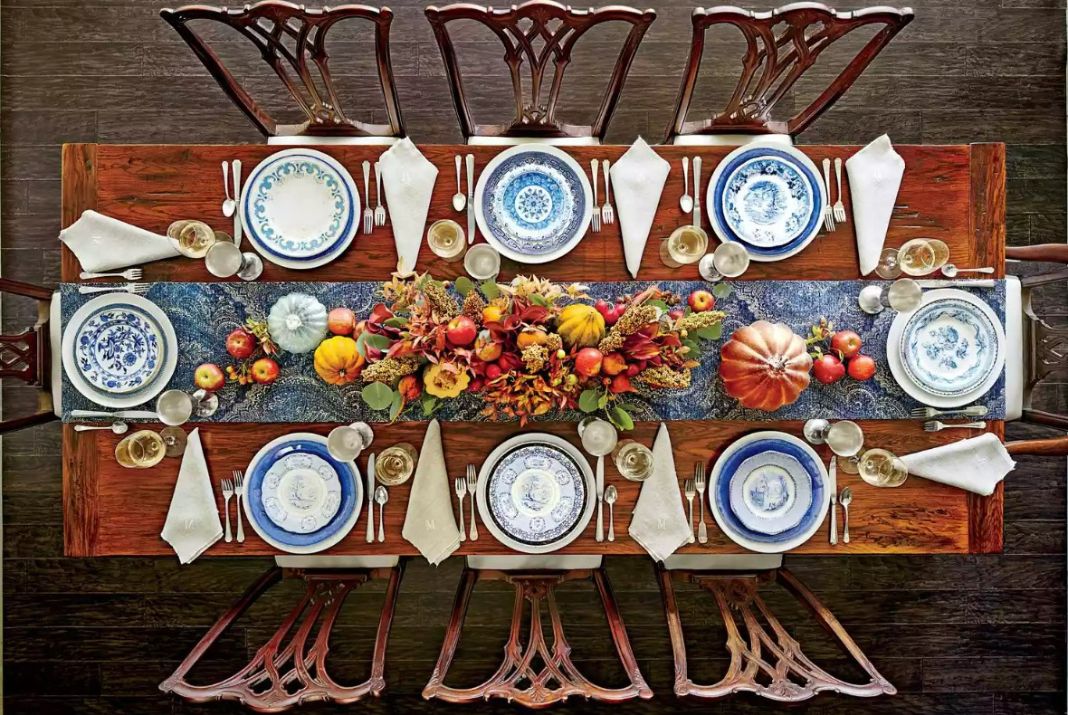 Hosting a large Thanksgiving feast? There's a good chance you don't have enough matching place settings for each guest. But before you panic, take a cue from Alison Pickart: "When seating 22 people, as we had last year, I knew I didn't have a set of dishes or glassware with enough to have everything match," she says. "We leaned into the mismatch and created an eclectic mix of fancy and casual. I stuck to three different place settings so it still felt cohesive."