We all need inspiration. It is even more important in the world of interior design, which is competitive, innovative, and constantly changing. We've selected a few beautiful residential projects for this article. These interior designs will undoubtedly motivate you to create something spectacular for your upcoming clients.
FCI London x Smart Projects UK
If you are an "interiors" lover, then you must meet
FCI London's projects
. They offer a great selection of products from
dining room furniture
to wardrobes and kitchens. From audacious coffee tables to stunning lighting and mirrors. You have a lot of wallpaper and fabric options to look through too. FCI London has one of the
largest contemporary furniture showrooms
in the UK, displaying the most exclusive quality pieces from the
world's most exclusive furniture brands
.
This high-end residential project in London gives us industrial-chic vibes. The interiors blend seamlessly with the outdoors in the open plan dining room design, where the dining chairs take centre stage. The polished concrete flooring contributes to a modern look. A nice balance of wood and metal is used in the home office, with bursts of colour thrown in for good measure.
To complete this stunning residential project, FCI London – in collaboration with
Smart Projects UK
– used some of
Laskasas
most popular furniture.
You can find them below
:
Dale Chair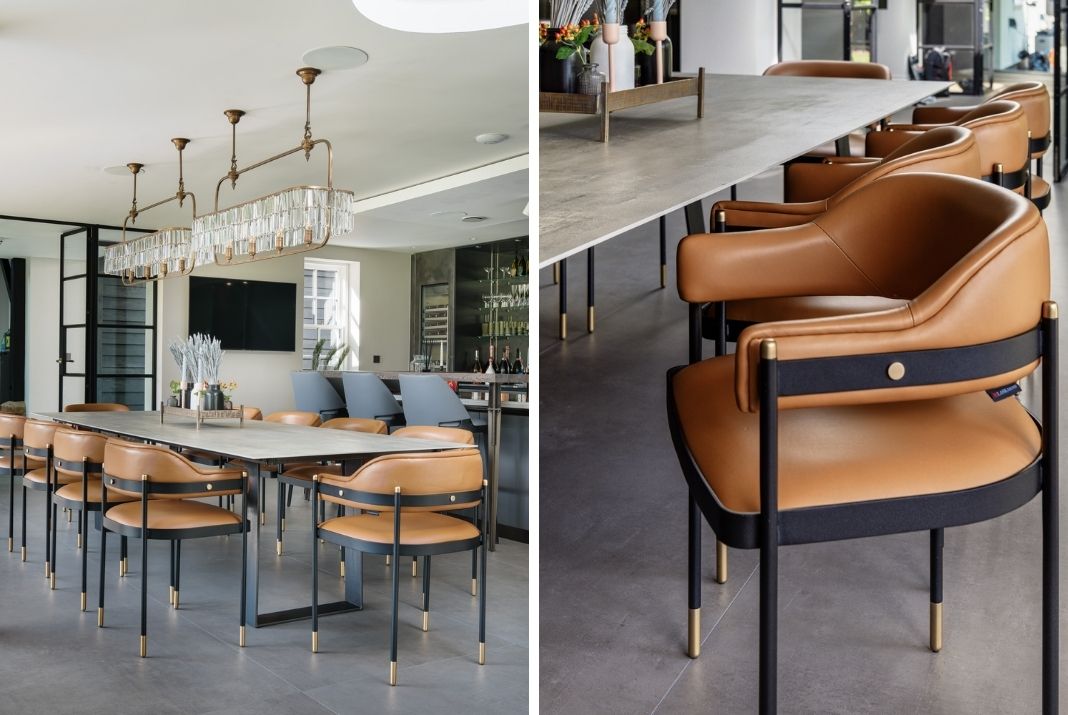 A stunning vintage-inspired seating piece with a convex back and armrest. Form follows
functionality and comfort
in a dining chair designed for bold
dining rooms
or other open settings. It presents a wrought iron structure with metallic feet, involved in a smooth fabric seat and backrest.
Rosie Desk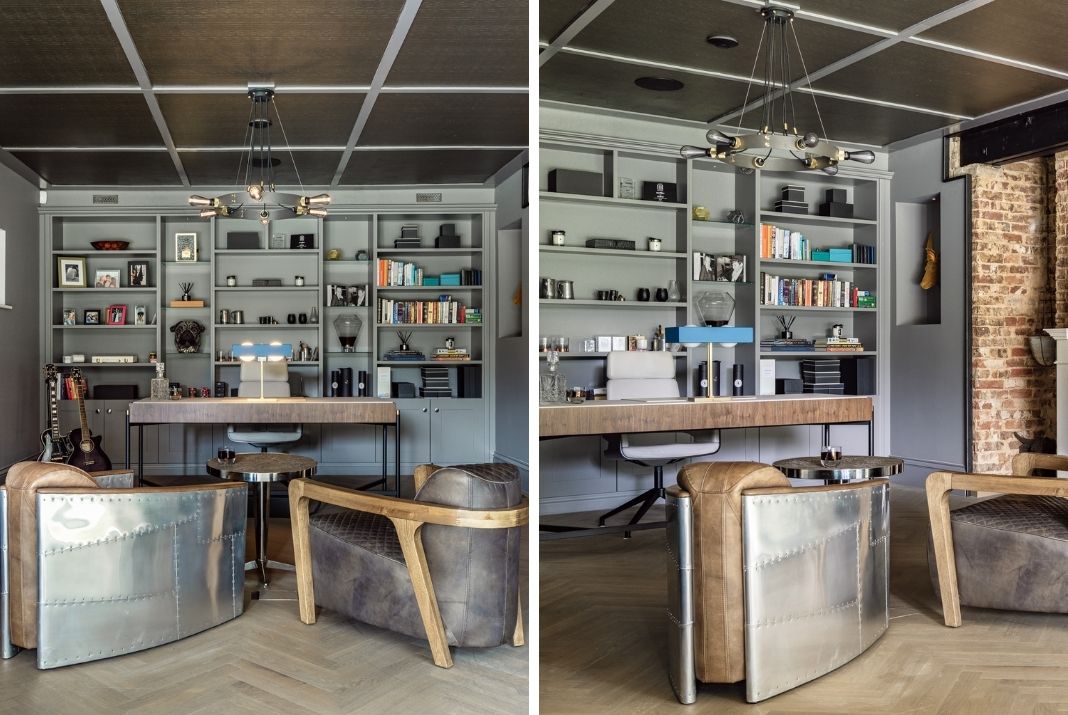 This mid-century desk has an iron structure and is available with a marble, upholstered or wood top. Embracing the essence of sophistication and elegance, the Rosie desk is a contemporary piece with three drawers and an exclusive surface.
Rosane mirror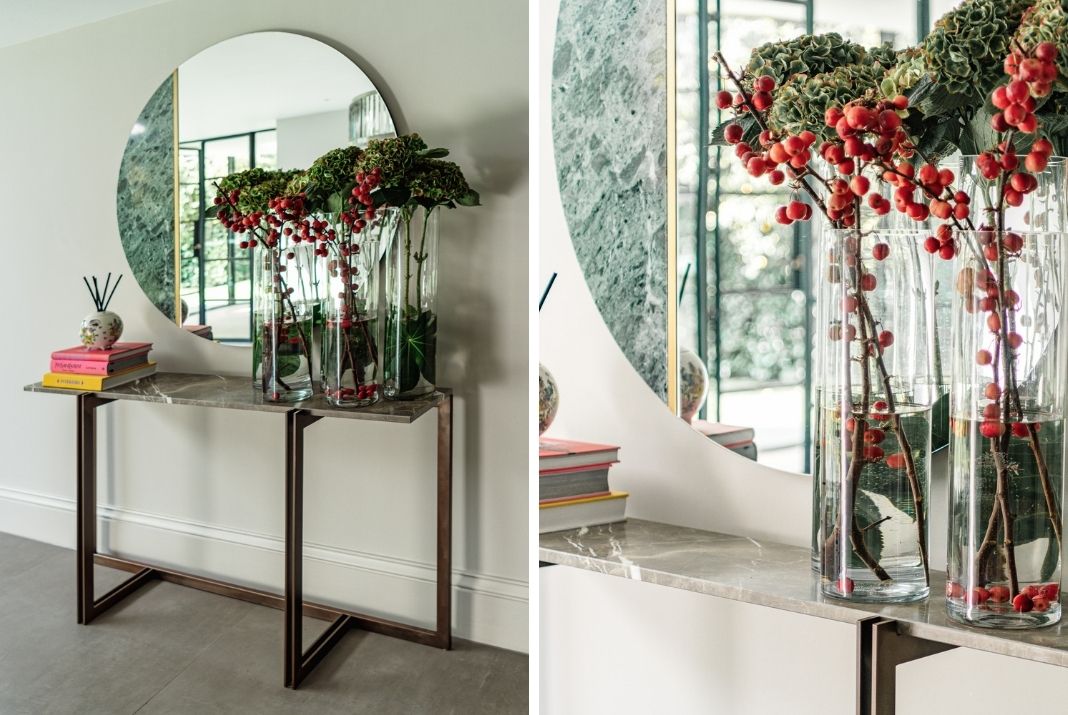 The circular shape of this wall mirror feels extremely organic with the mixed materials paying a tribute to mid-century mirrors. The harmony between mirror and marble is accentuated by a thin metal line that adds even more sophistication to this piece.
SET CONCEPTS: SLS Hotel Design
Located in the business bay of Dubai and with a marvellous view of the city downtown, the SLS Hotel apartments offer a place that you can call home. Each room has a contemporary and sophisticated feel, offering the finest in furnishings, materials, and finishes. Set Concepts were challenged by the owner of SLS Hotel Dubai to design one branded residence.
This project is a one-bedroom apartment in SLS Hotel and residences in business bay Dubai. To produce a modern and exquisite residential project, the colour theme chosen for this project was blue with flashes of gold and grey. Soft, refined fabrics and marble came together resulting in a beautifully designed living and dining room.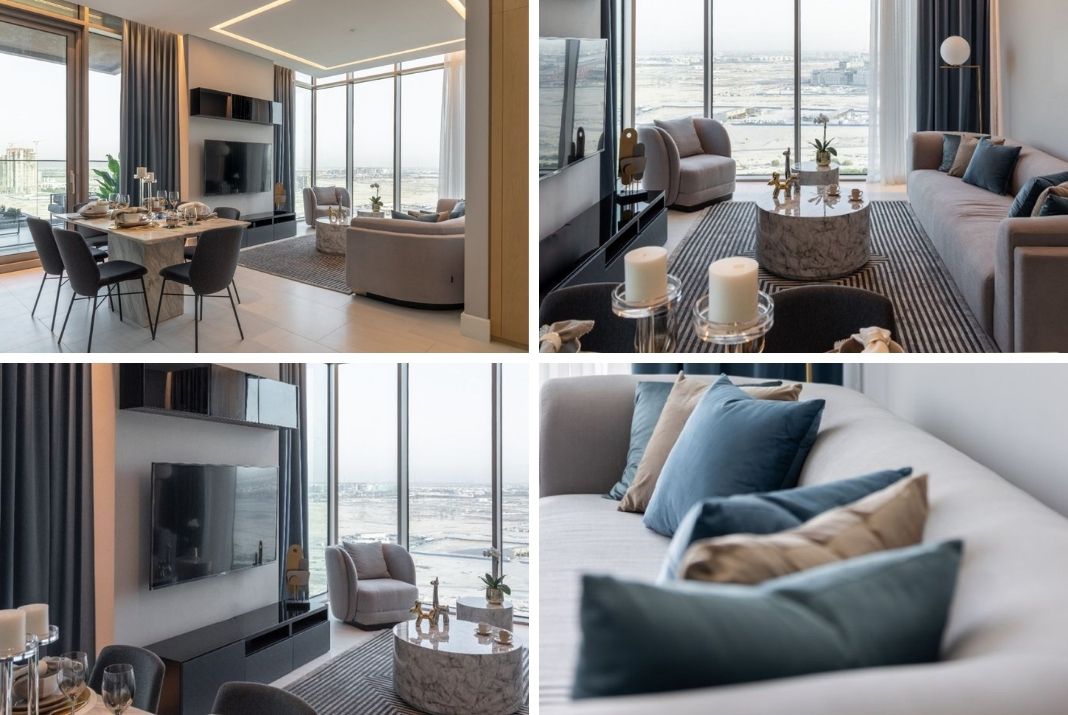 Ambrose is a one-of-a-kind armchair with a sleek convex back. It features a discreet wooden base to support a majestic, upholstered armchair with a comfortable seat. Perfect for round-based residential projects.
Wellington sofa is one of those sofas that you didn't know you needed until you have it. This contemporary sofa with a vintage touch will embellish your living room and other open settings. With a wooden base, it presents a convex back and smooth rounded edges for effortlessly comfortable and stylish decors.
Komfort Centrum: Penthouse residential project
Located in the small town of Baltonfüred on the north shore of Lake Balaton, emerges a residential project. Surrounded by tender mountains on the north, and the beautiful lake on the south this place breathes serenity and privacy. Developed by the Hungarian interior design studio Komfort Centrum.
Ceramics and wood were combined to create a sense of harmony. Another very interesting feature of this residential project is a uniquely produced 3D veneered wall panel. All these elements combined, give this home design project an amazing touch of uniqueness and luxury. Laskasas was deeply involved in this project with almost 10 furniture pieces throughout the entire design project.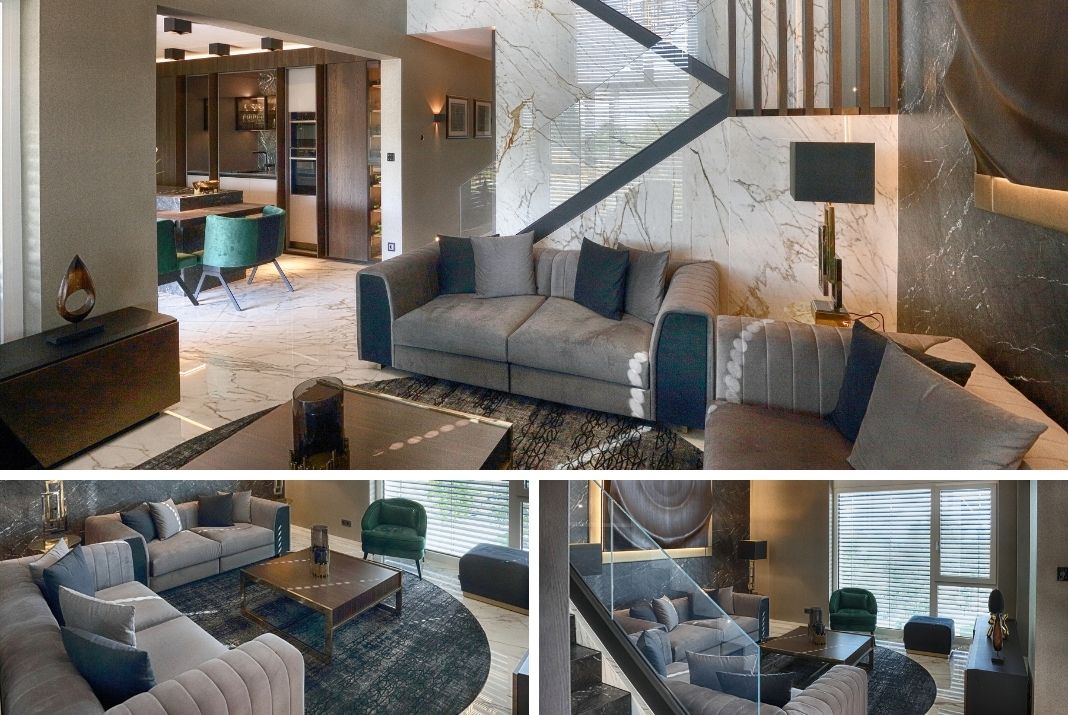 Harry sofa quality crafted work provides a striking seating furniture piece for this residential project. Fully upholstered, it is available in different versions as a smooth and comfortable sofa for inviting homes.
Anthony coffee table is a little extravagance for good design lovers. This charismatic centre table combines wood and metal, as a result, it is shaped to create inviting rooms with a luxury soul.
Mike pouf is a low stool with a base in stainless steel. This shimmering detail boosts the beauty of the fabric carefully crafted by our artisans. A small yet stylish accessory perfect for any home decor.
Gordon chair has a strong presence balanced with the beautiful contrast given by the stripes on the back. Upholstered by Laskasas' artisans, it features four shimmering legs for full support. Gordon blends grandiosity and beauty to make a statement in any dining room.
Karma Al Nimer Interiores: Home interior design Project
Karma Al Nimer Interiors Design Studio curated a perfect residential project located in the historical capital of Jordan. The designs the craftsmanship, and materials used throughout the entire residential project astutely enhance the visual experience. In this contemporary design, everything takes its place in a simple and functional way. The neutral colours and deliberate use of textures add a sense of sophistication to this remarkable space.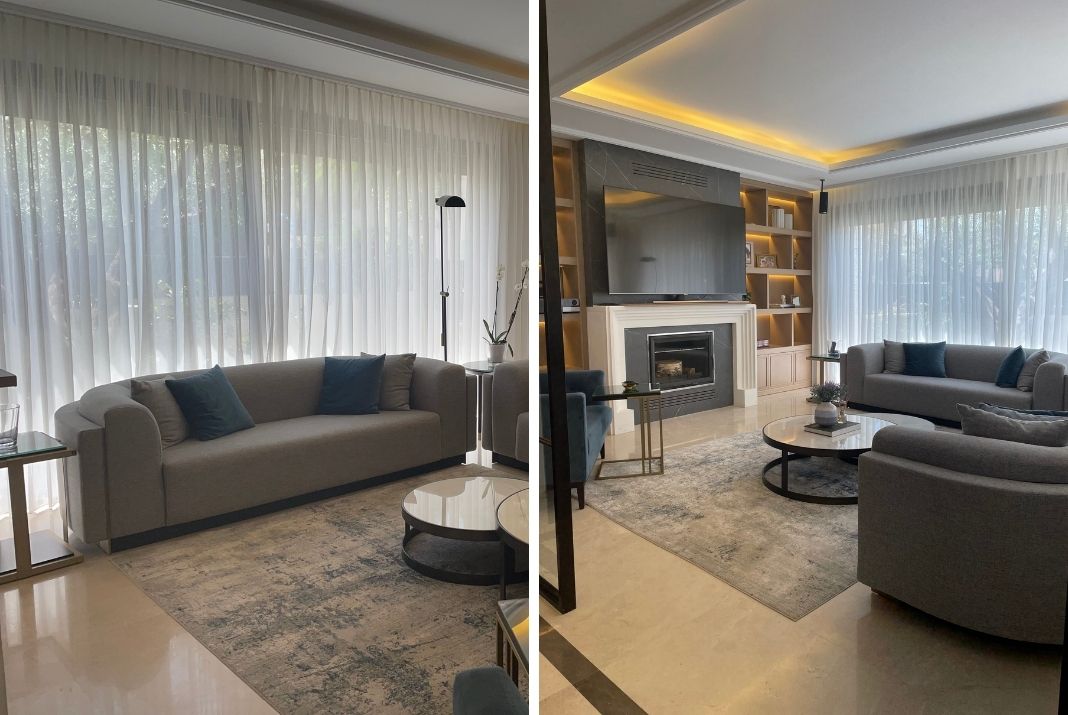 This experienced interior design studio planned this luxurious home design with 250 square meters. The vintage touch from the Wellington sofa set the tone of this residential project. Because of its organic curved shape detail, it creates a relaxed feeling in the room.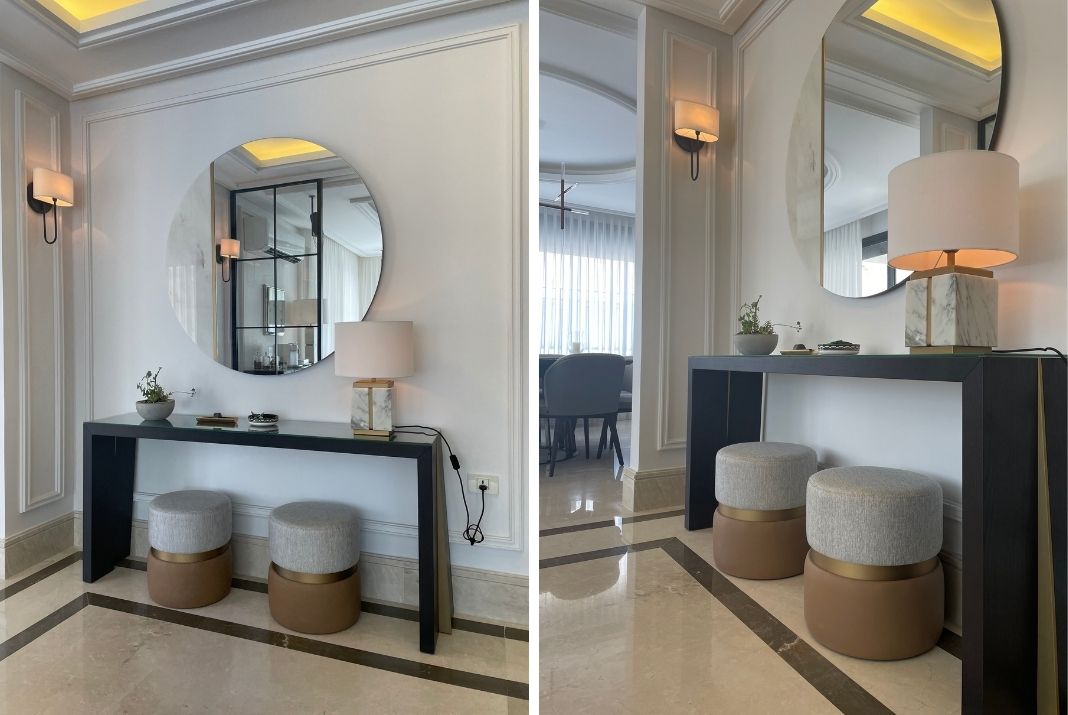 The deliberate use of textures and natural colours was the perfect way to create the wanted sophisticated environment. As a result, was an elegant contemporary home design decor that brings the right feeling to the residence. Everyone can see the perfect symbiosis between the doubleEdson poufs and our Avignon console, amazing colour combinations that makes this entryway a beautiful stopping place before reaching the main areas.
Nelly chair will be the focal point of any dining room set. From Nelly collection, this vintage dining chair presents a deep round convex back and four wood legs. Upholstered in two different fabrics, Nelly is a soulful piece for sumptuous dining rooms.

Clé de Maison: Two apartment fusion

Clé de Maison is an interior design firm that works with all type of interior and executes every project with great precision. This project is the result of the merge of two apartments and the design of a luxury, spacious penthouse apartment in Vilnius old town with a spectacular rooftop terrace with a jacuzzi.
Layered with intriguing textures and materials, bold colours, sophisticated finishes, and details this became an inspiring design that offered the client something personal and curated. To achieve this, the use of natural materials is featured throughout the entire residential project. There's a solid oak parquet with brass inlays, and mirrors, plus brushed and polished detailing in specific areas.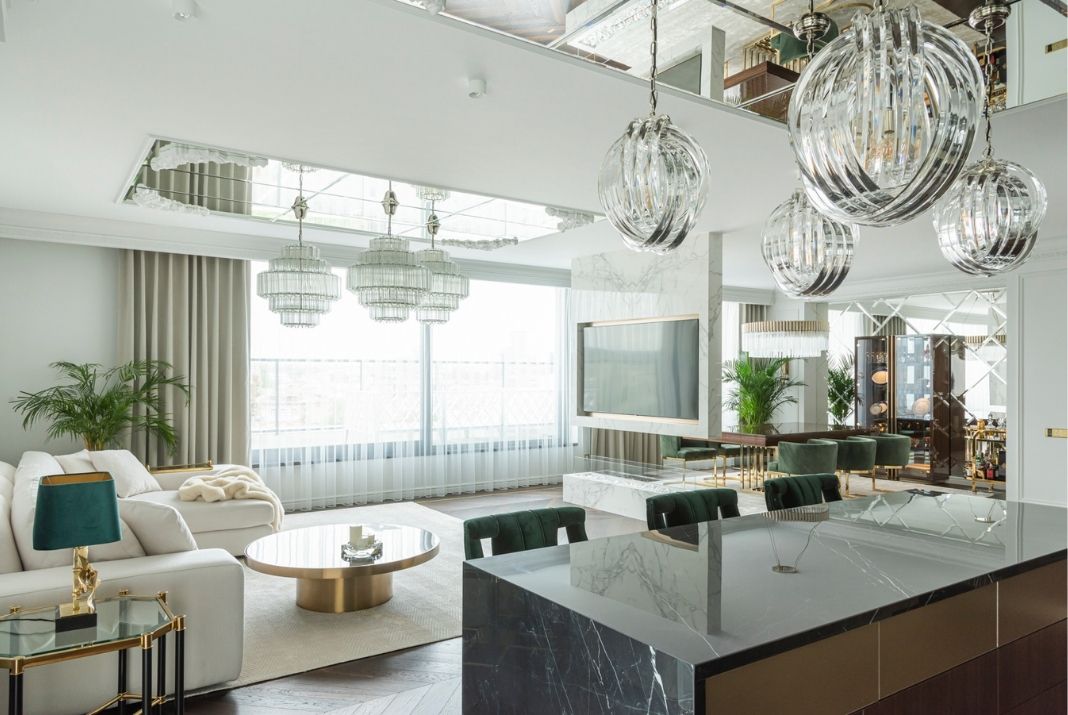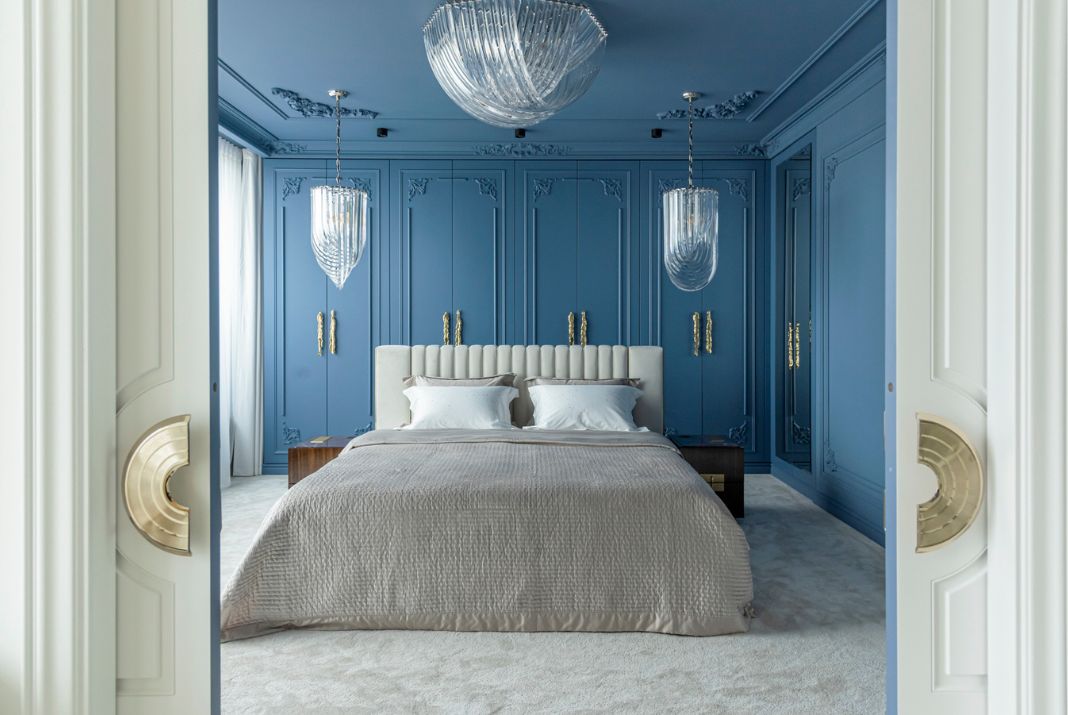 If you love opulent textiles and finishes, Lauren bed is the mid-century piece you need. Fully upholstered, this is an oversized bed for airy bedrooms. With its beautiful pattern, it will be the focal point of any master bedroom.
You may also like: Entryway Design – How To Make A Stunning First Impression
These are just a few of the projects in which laskasas has had the pleasure of taking part. We value it and treat it with the respect and dedication that interior designers are entitled to. We hope that these residential projects have inspired your imagination and encouraged you to bring your customers' aspirations to life. You may also rely on us for the most diverse and customisable pieces to make your project one-of-a-kind.