An empty living room is the perfect setting for a story. Contemporary Design combines elements from both styles not only to complement but also to create a harmonious space.
This creates an elegant, comfortable living room with a functional, clean, and captivating aesthetic. Looking for some interior design ideas?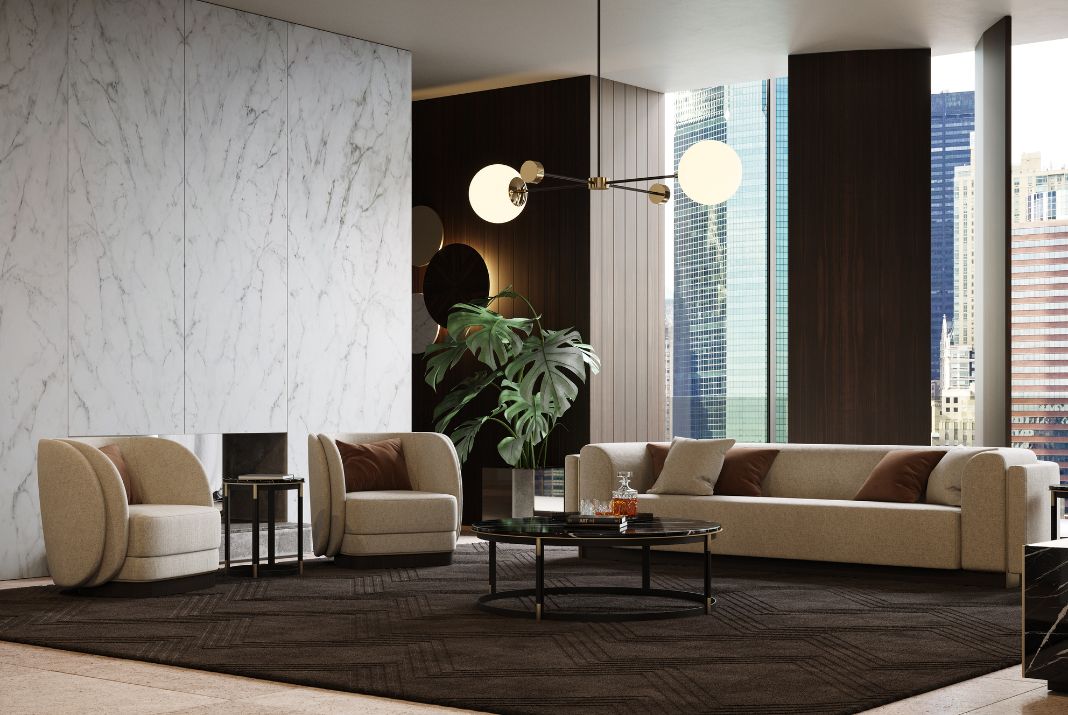 In a mixture of styles that surrounds the minimalist, where elegance and refinement prevail, this living room also emulates a contemporary design. Curved furniture is one of the trends that has gained more and more popularity over the years and especially in this year 2022. In this project, Ambrose Armchair stands out with its curvilinear and timeless design.

Colours also contribute to a room's contemporary design. The neutral hues in this example run throughout the space, making the overall design appealing.

BROWN LIVING ROOM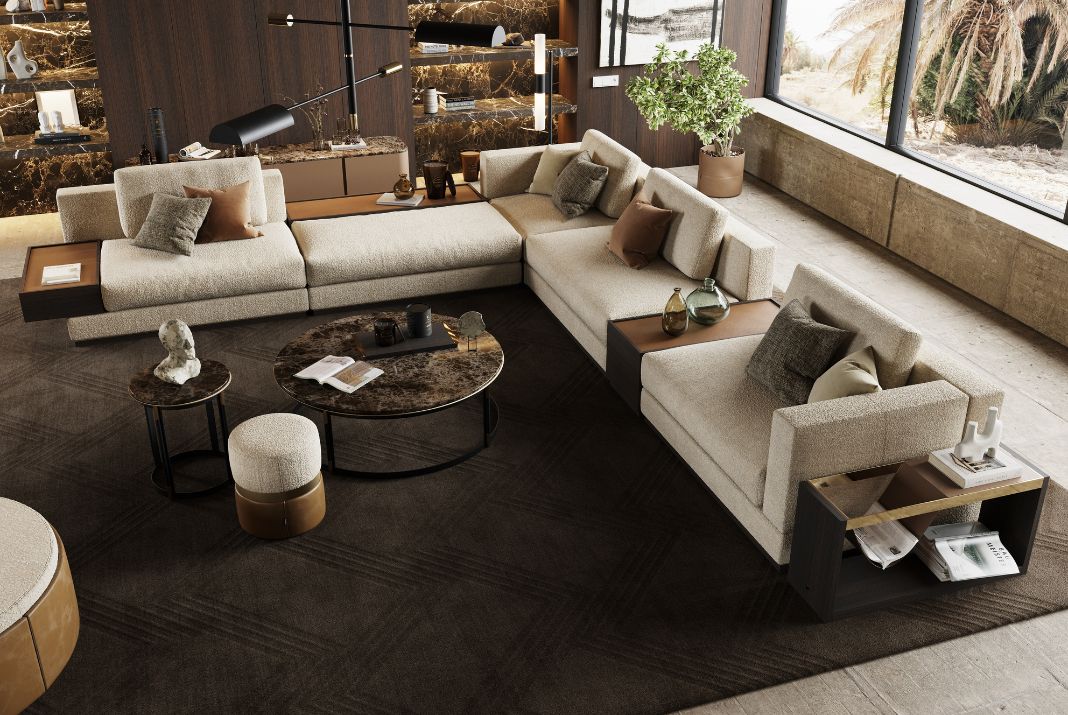 This living room is an excellent example of modern design. The Modular Fletcher Sofa defines the limit of the living room while also providing a more contemporary style. The deep colour of the Lyssa coffee table helps to create a good contrast with the rest of the living room's simple and lighter tones.
This is an excellent example of how modular furniture can be a key component in conveying a more contemporary style.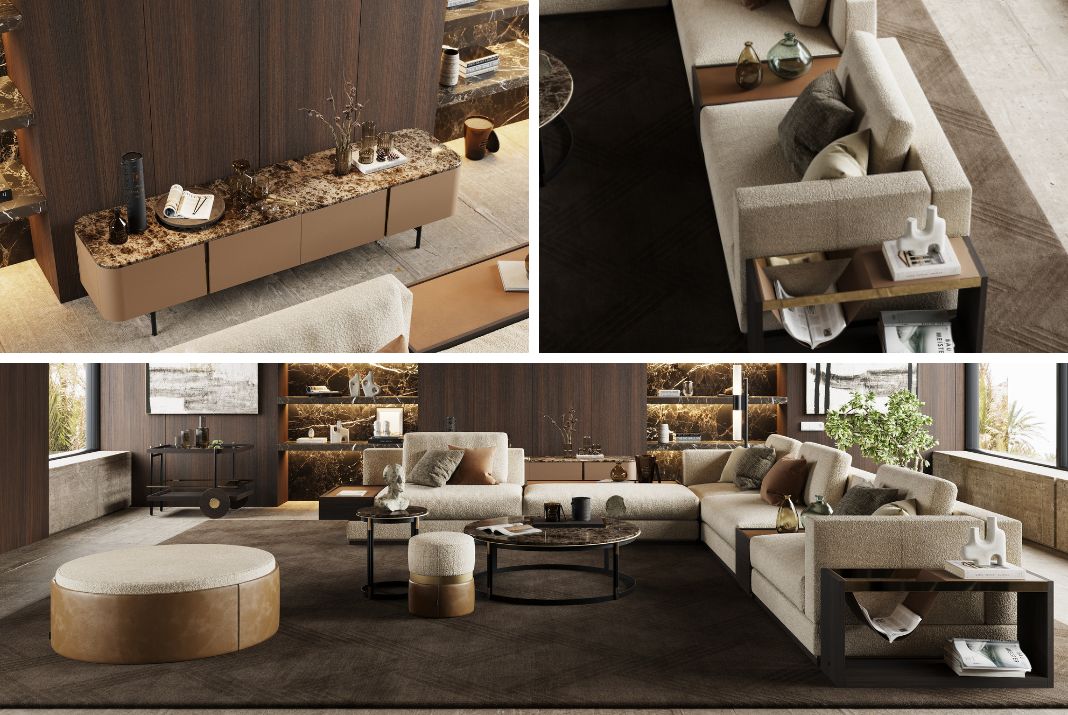 Some of our Pieces:
Jason Big Pouf - One of life's little luxuries, Jason pouf has it all. With undeniably good looks and ultimate versatility, you'll wonder how you managed without it. Perfect for perching, the pouffe is the ideal seat for smaller social spaces where you often have extra guests, not extra room. Use it as a table to rest magazines or simply put your feet up after a long day.
Ryan Storage Unit - Ryan storage unit is the perfect product to display all your favourite magazines. Handcrafted using high-quality materials like wood and metal. This decorative element combines beauty and functionality.
GET TOGETHER LIVING ROOM
This living room concept developed by Laskasas is the culmination of several ideas linked to contemporary design.
Neutral colours dominate the living area, with select pieces strategically placed to provide visual contrast. The Gold Sofa is the focal point of this project, due to its size and overall design. Always choose a piece that you consider essential and don't be shy about how much you want them to be the centre of attention.
Gold is a colour that we automatically associate with contemporary design. In this living room, we can detect several golden details in practically all the pieces that are present in this space. These same golden accents can be seen on the Still Side table, which connects to the Raw coffee table and brings harmony to the entire living space.
SEE HOW THE PROS DO IT: HOW TO DECORATE YOUR HOME: THE DEFINITIVE LIST TO REACH YOUR HOUSE'S FULL POTENTIAL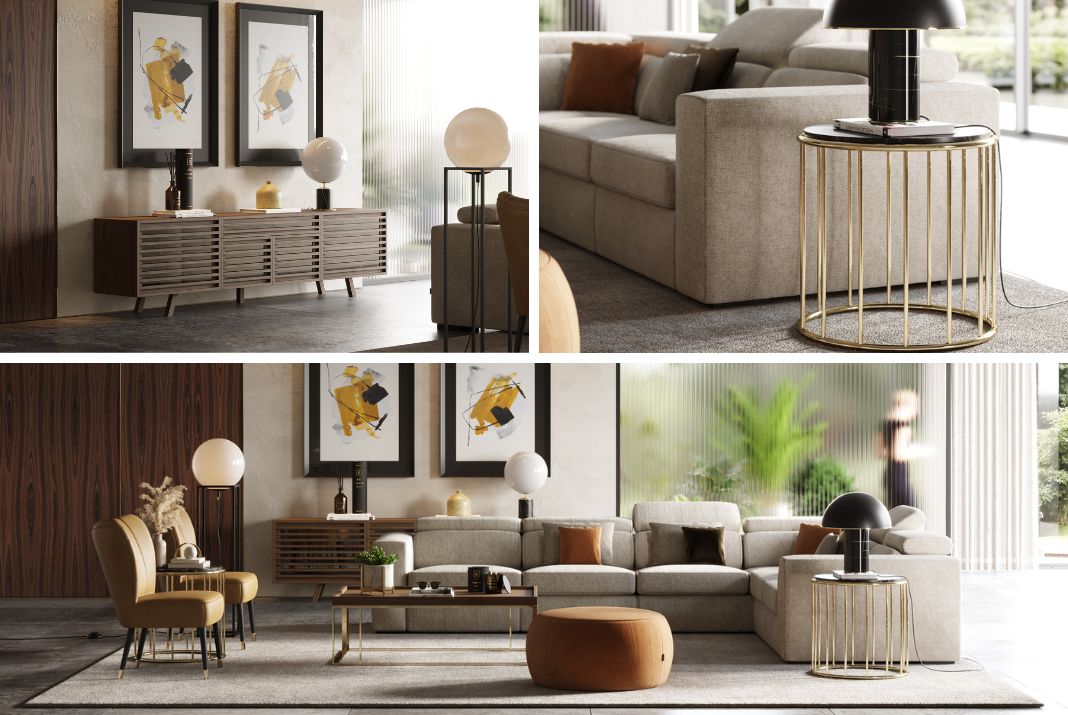 Some of our pieces:
Moon Armchair- The enchanted soul of the Moon is the inspiration for the Moon armchair style and individuality. Beautifully handcrafted by our artisans, this is a marvellous velvet armchair with a high curved back, cushion seat and wood legs.
Marcel Table Lamp - Marcel table lamp is an iconic lighting design with the sophistication of the finest materials. Handmade in marble, this unique reading lamp is full of metallic details creating glamorous shades of colour. All shapes and materials match perfectly to provide a soft touch of light to any decor.
GARDEN LIVING ROOM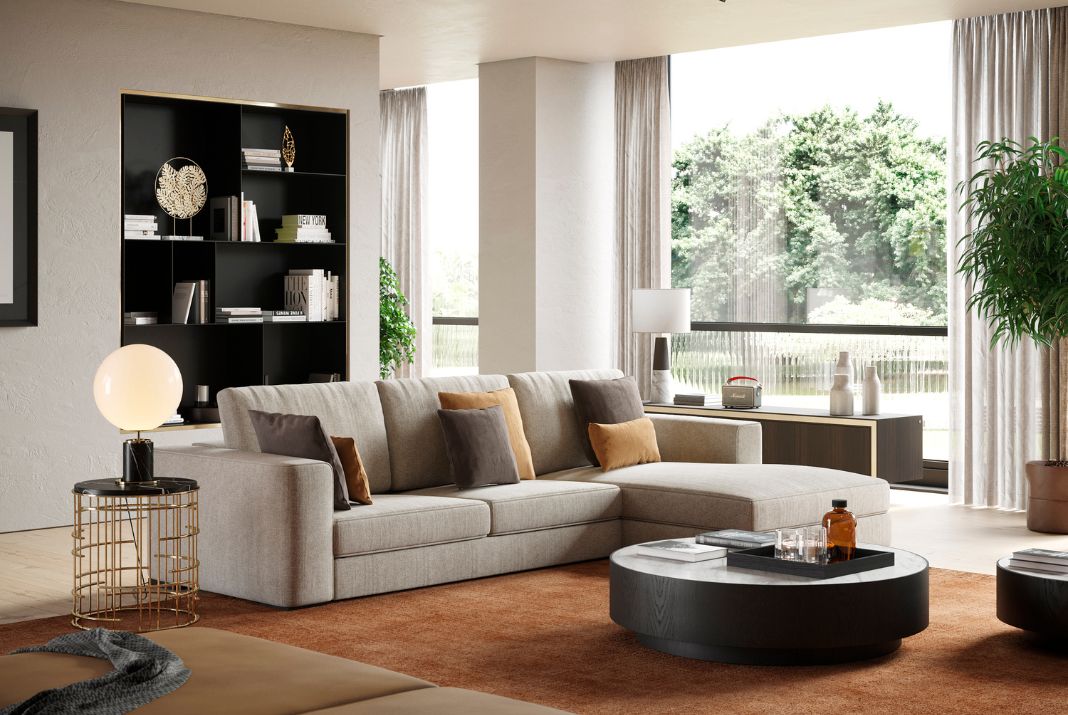 This living room project is a simpler example of what contemporary design can do in a smaller, more welcoming space. Although the Grey Sofa with Chaise Lounge is an important piece that helps to define the living room's layout, the emphasis is directed to the Gold coffee table. This double arrangement of coffee tables is frequently connected with contemporary design, lending a contemporary feel to the overall project.
Another feature of the Gold Coffee Table is the Nero Marquina marble, which is also closely connected with contemporary design.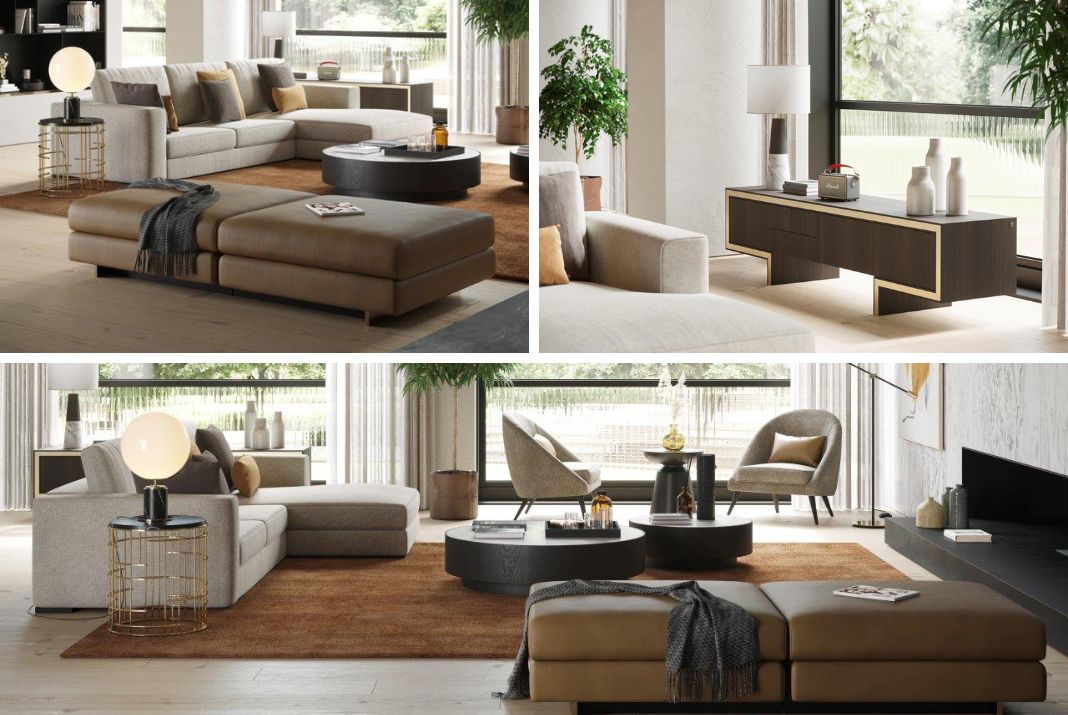 Some of our Pieces:
Mercy Side Table - Mercy side table is about details and geometric patterns. This exquisite member of the Mercy Collection presents a round tabletop and metallic structure. With a cylindrical shape, the asymmetrical line body enhances the beauty of any interior design project.
Isis TV Cabinet - Displaying a shimmering frame, Isis sideboard is a contemporary storage solution with a mid-century style twist. From the Isis collection, this dining room sideboard brings the true touch of what modern style is all about. Isis is different from anything else you've ever seen.
SHADES LIVING ROOM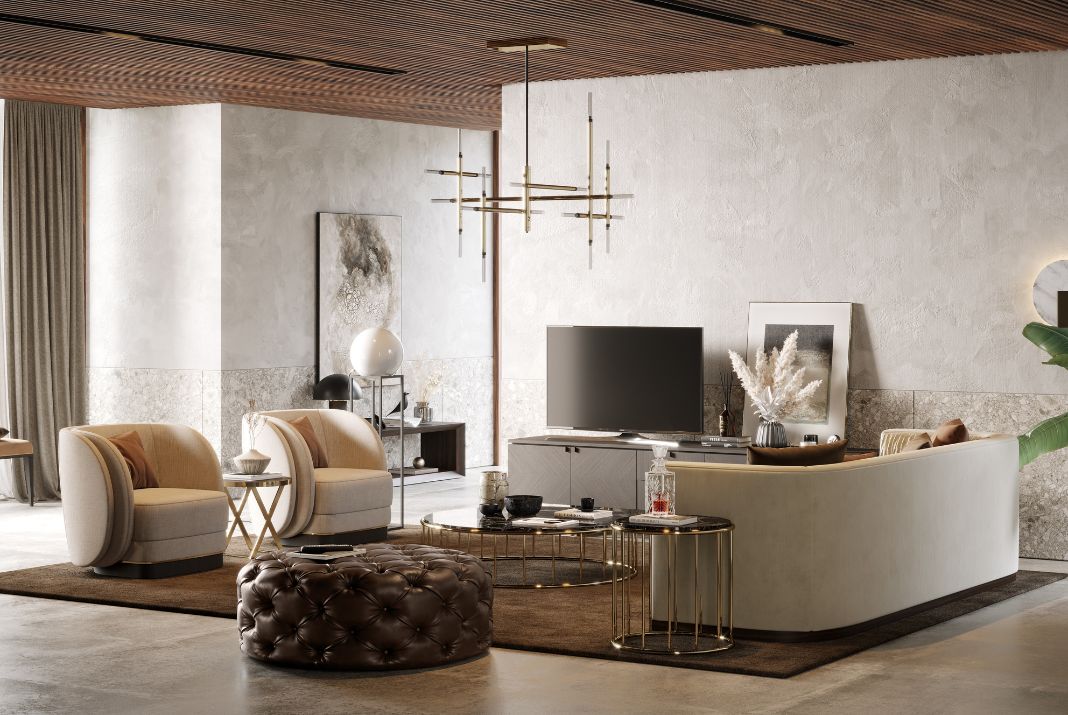 This living room is full of small details, offering a sense of relaxation and togetherness. The colourful upholstered round pouf carefully crafted with the deep buttoning technique accentuates the aesthetic of the space. As a key area of any home, this living room features two armchairs and a sofa in neutral colours while the dark wooden ceiling provides a feeling of safety.
Raw materials like the stone of the walls and the marble of the coffee and side tables create a natural-inspired look. Curved and simple forms complement the soft environment of a room and express the true contemporary style.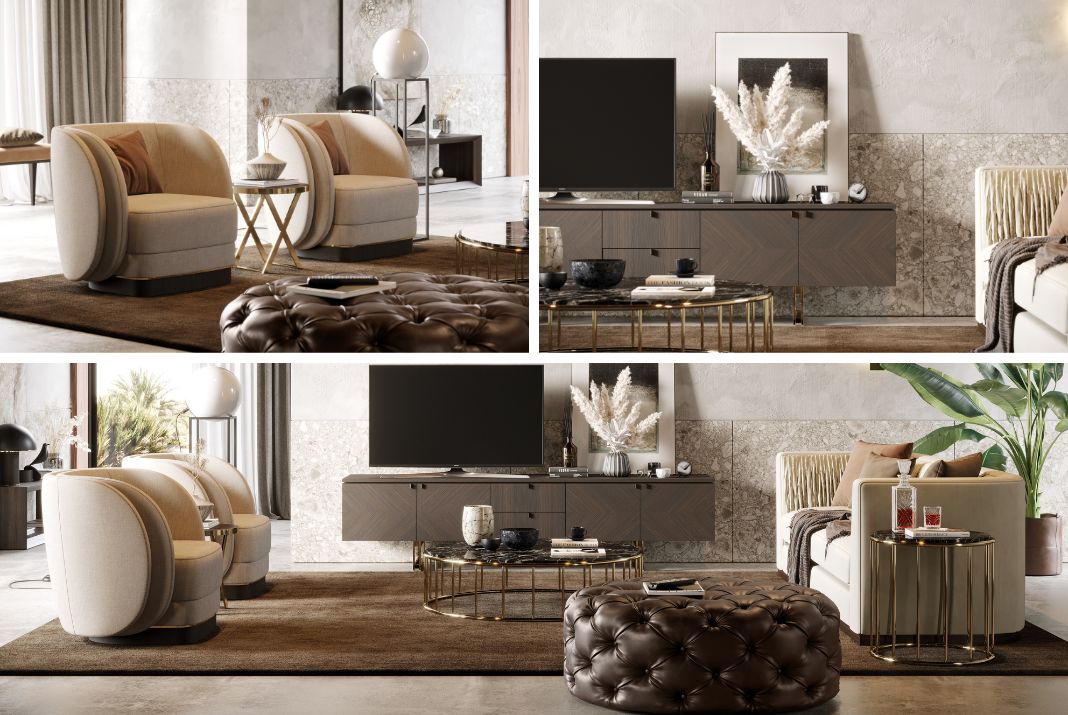 Some of our pieces:
Bur Pouf - Bur pouf is a brilliantly crafted upholstered pouf with elegant lines. The deep buttoning technique gives a special touch of sophistication to this luxury footrest that can be also an additional seat for living rooms or master bedrooms. A round stool with a huge presence that can be placed in any part of your home. This oversized tufted piece stands out in any style of interior, from traditional to modern.
Miuzza Sofa - Miuzza sofa brings comfort, happiness, and glamour to your living room. This contemporary couch fully upholstered in exquisite velvet fabric is the new focal point of interior design projects. Inspired by Art Deco silhouettes, this plush velvet sofa is versatile enough to be well-paired with just about any design style.