For more than 60 years, the Salone Del Mobile Milano has been one of the world's most influential interior design exhibitions! The Milan Furniture Fair, which has been taking place since 1961, is a forum for promoting Italian furniture and furnishings exports.
With over 2,000 exhibitors displaying exceptional items and solutions for contemporary living that incorporates design, technology, flexibility, and sustainability.
Today another edition of the fantastic Salone del Mobile is live!
As usual Laskasas is present
Come visit us at PAD01, stand G12.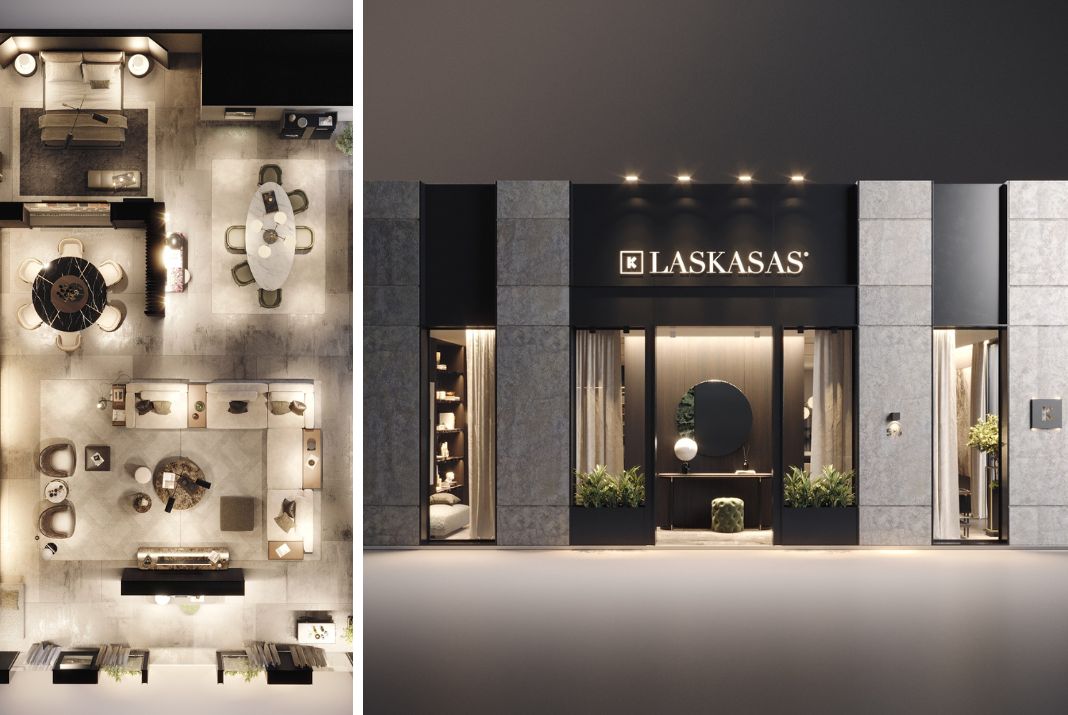 Every year, the iSaloni attracts over 370,000 professional visitors, with just under 70% of them coming from other countries. As over 5,000 national and international journalists and over 27,500 members of the public during the weekend, making it the sector's must-attend event.
Not to mention The Salone's associated events, which are often created by renowned international artists and designers, because Salone Del Mobile is about more than just business.
A Little Preview of what we have in store for this Year's Edition of Salone del Mobile
Our welcoming Entrance Hall
The entrance hall is the first thing you see when you walk into a house, and it can be found not only at our Salone del Mobile exhibit, but in any household. It's the first glimpse into a home where the interior design is essential. It's important not only to make a strong initial impression, but also to demonstrate the concept and thought that the other divisions will aim to demonstrate. Balancing utility and aesthetics are one of the inherent challenges of putting together some nice entrance hall concepts.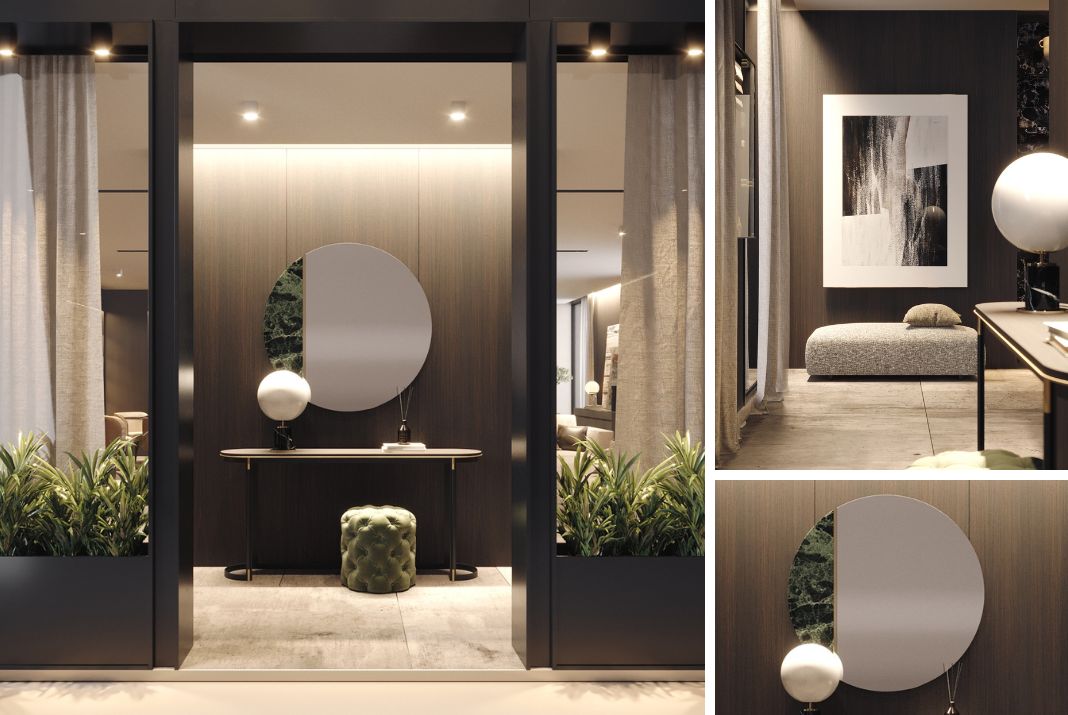 In this entrance hall we find the perfect combination of soft brown colours and different shades of green. The perfect contrast between the green marble of our Rosane mirror and the green-toned fabric of the Paris Pouf creates a welcoming first impression in this delightful entrance hall.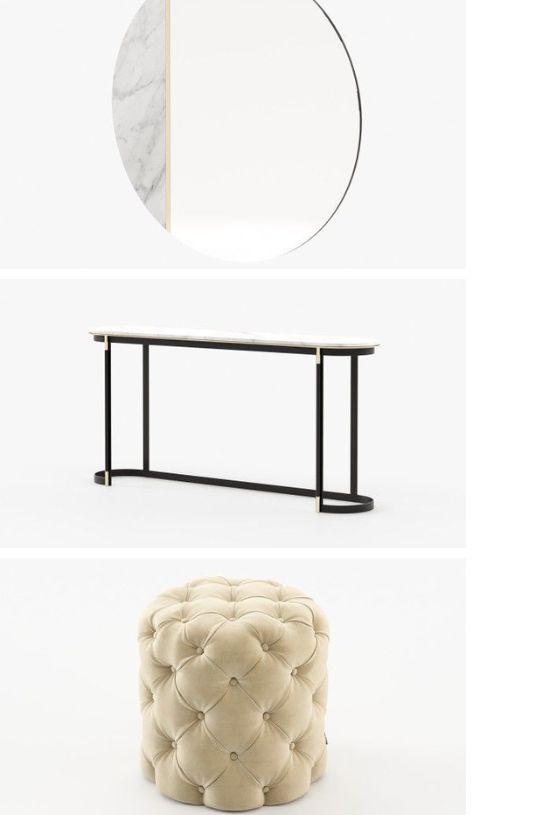 If you have a stylish entrance hall to decorate or a charming living room immersed in elegant details, Rosane mirror is the piece you need. Rosane challenges mirror conventional design and creates unbelievable spaces. The circular shape of this wall mirror feels extremely organic with the mixed materials paying a tribute to mid-century mirrors. The harmony between mirror and marble is accentuated by a thin metal line that adds even more sophistication.
Lyssa console embodies the refinement of noble materials with a contemporary approach. This opulent piece with rounded corners is perfect for charismatic entrance halls. Its wrought-iron structure contrasts with the romantic top in wood or marble for an effortlessly sophisticated decor.
Paris pouf evokes beauty with an inexplicable softness. Handmade with the buttoned upholstery technique, this piece is the synonym of style, with the metallic base perfectly complementing the elegance and glamour of this stool. Paris lifestyle, attitude and history lives in each detail of this pouf, ideal for romantic bedrooms projects or charming entrance halls.
Living room Concept
The living room is one of the most important rooms in every home, some designers even call it the new Heart of the House. It's one of those places that everyone will spend hours upon hours just watching some movies or even just embracing social activities.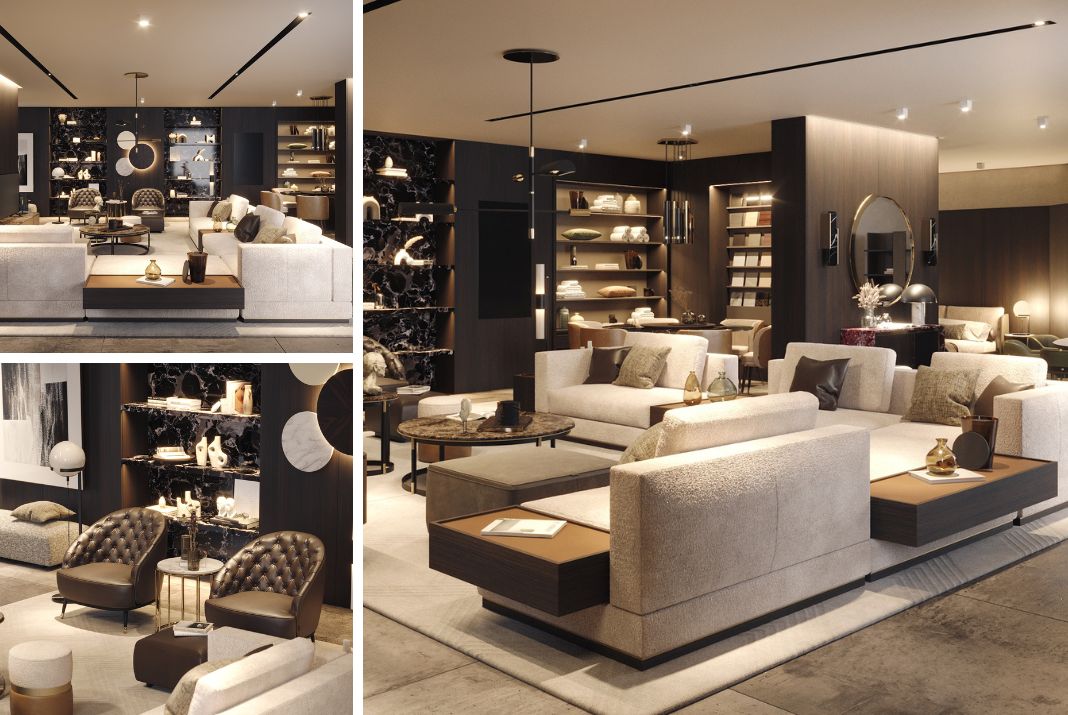 This beautiful concept living room design is achieved by an amazing combination of colours patterns and textures. Our Fletcher modular sofa is the absolute anchor point of this living room. With its neutral colours, it creates a beautiful contrast with the deepest tones, particularly our Hector armchairs' darker leather. The gold metallic accents on the Still side table give the space a bright and sophisticated feel.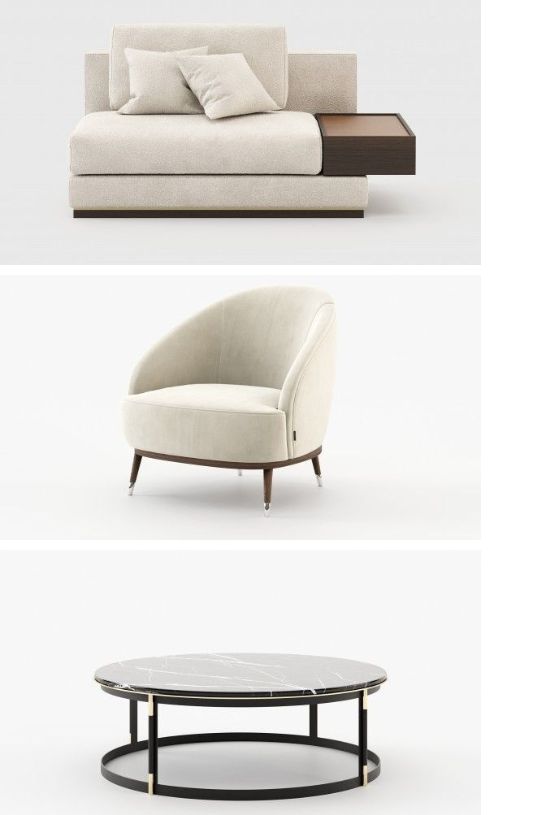 Uniting carefully balanced proportions, great comfort and a conscious renunciation of decorative details, the Fletcher modular sofa exemplifies the characteristics of this sofa type in their purest form. Thanks to its modular design with side, corner and central elements as well as a chaise longue, the size and form of the Fletcher modular sofa can be customised to meet a diverse range of requirements.
Hector armchair features a solid body structure combined with organic elements and luxury velvet fabrics. The back designed with deep buttoning evokes a warm sophistication look that contrasts with the metal shoes on Hector chair legs.
Beauty lives inside Lyssa coffee table. Defined by its solid marble top, this living room piece is conceived from different materials and details for additional glamour. A unique coffee table for those who have a peculiar taste for functional and sophisticated pieces.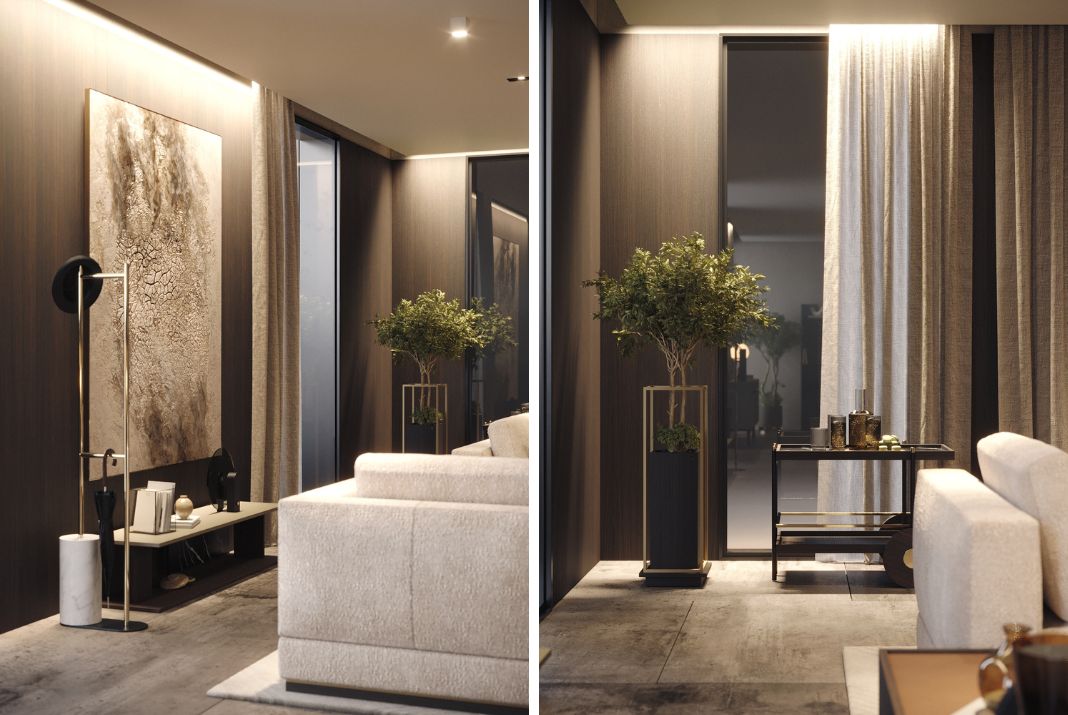 Ryan storage unit is the perfect product to display all your favourite magazines. Handcrafted using high quality materials like wood and metal. This decorative element combines beauty and functionality.
Pitt Tea Cart
Perfect for hospitality projects or entertaining guests at home, the Pitt tea cart features chic iron shelves and a metal sturdy frame in a lustrous customizable finish. The tray features marble natural stone, adding even more elegance to this piece.
The dining room exposition
Is there anything more satisfying than gathering with loved ones over a table? Contemporary design is defined by a strong ambition to push beyond traditional aesthetics, to shape new languages, to tell new stories, and find yourself in the centre of it all!

That is why the dining room is so important to get it right. This concept room is perfect for anyone who wants to fall in love every day.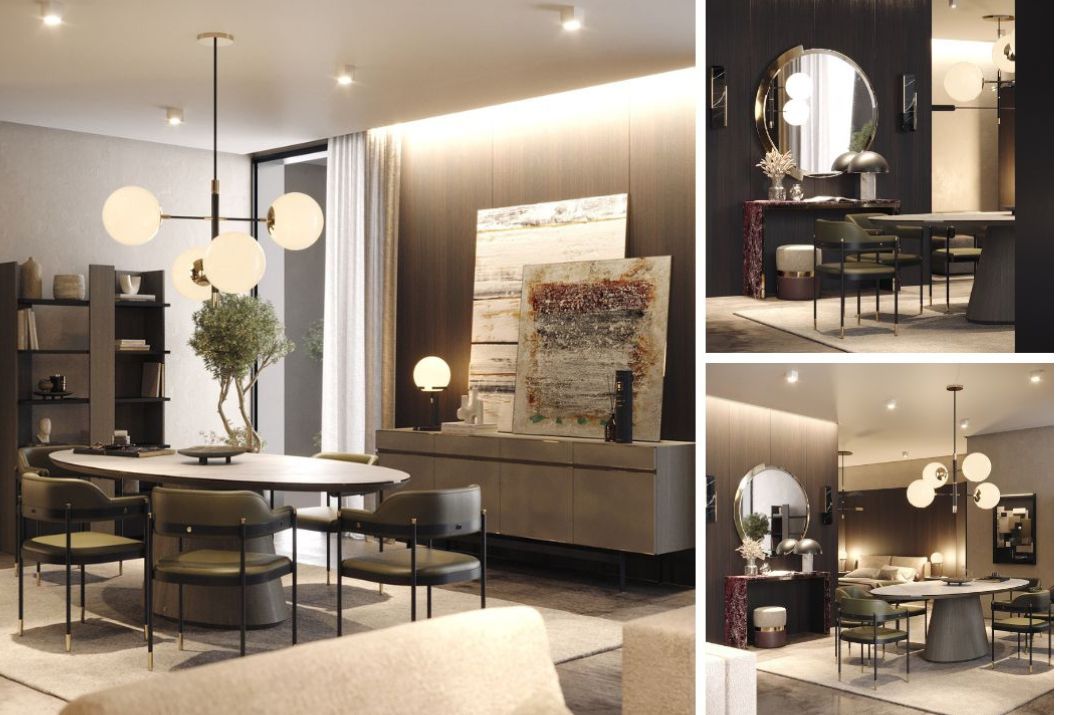 Our gorgeous oval Kelly dining table encourages interpersonal interaction by encouraging discussion among all guests seated around it. With this dining table, the dale chairs are a wonderful match. In this concept we also see a sideboard dedicated to storage but never neglecting a fantastic design.

This dining room is transformed into a warm, elegant space that promotes harmony.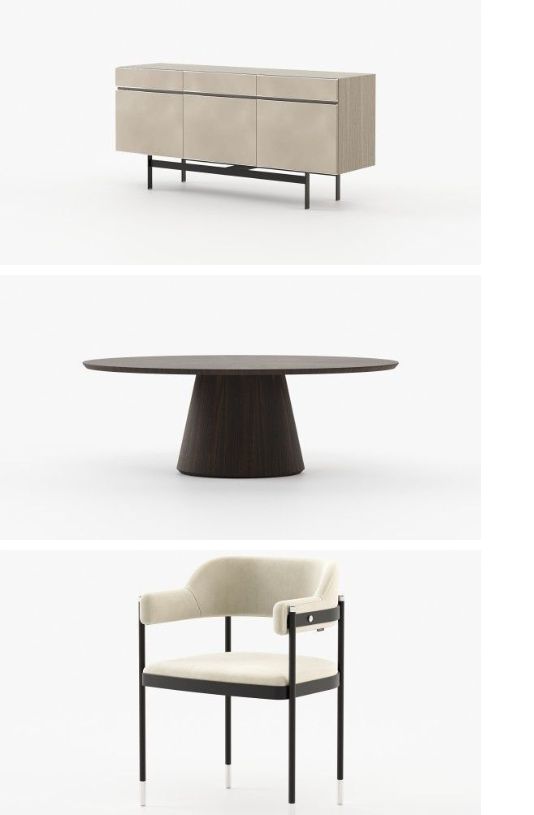 Store your precious things in a stylish way with Ralph sideboard. This 4-door cabinet is ideal for every modern living room, bedroom, or large hallway to keep necessary items close at hand. The sideboard's top and sides can be customized in various wood types, giving the piece a natural wood effect and a bit of a retro feel. Decorate it with vases, books, or plants to effectively fill the space.
Kelly dining table holds a design that will stun you. This oval dining table is an eccentric piece conceived for extravagant dining rooms. The perfect addition for luxury restaurants and exclusive dining areas. Playing with function and design, its oval top gently lies in one robust column.
Exploring contrast materials and geometric forms, Dale chair is a stunning vintage-inspired seating piece with convex back and armrest. Form follows functionality and comfort in a dining chair designed for bold dining rooms or other open settings.
Bedroom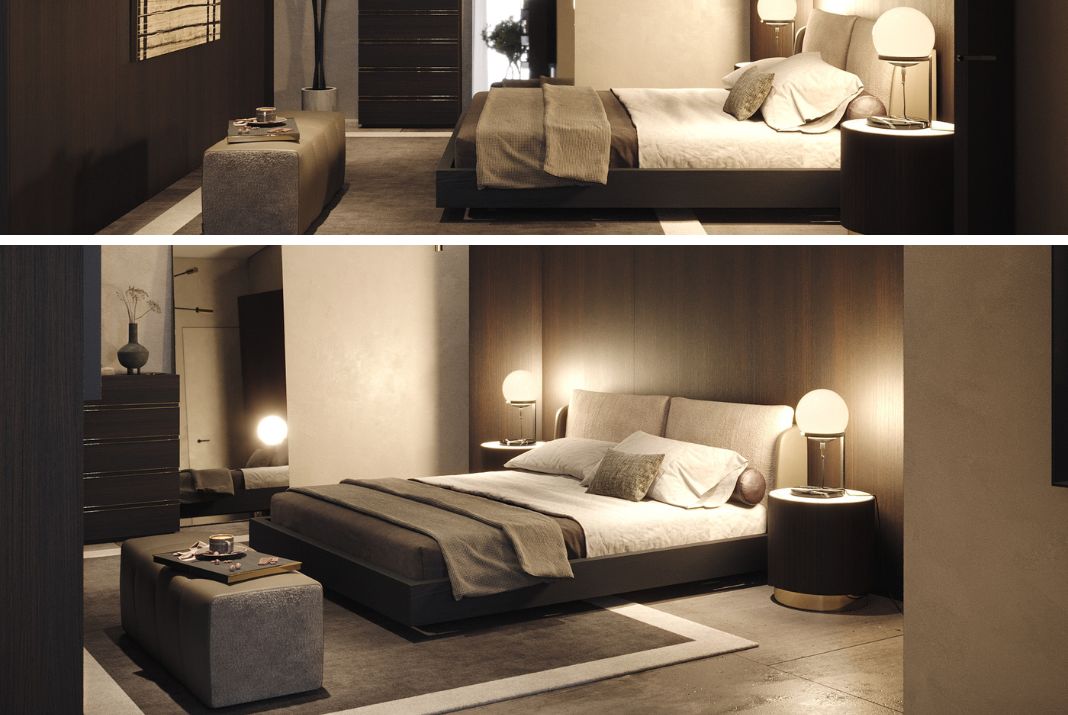 This bedroom has a simple, yet beautiful design. The amazing Brooke bed pairs beautifully with the Gold bedside table where curves embrace each design piece. Despite the dark tones, the entire space radiates serenity while also projecting strength and courage. A beautiful concept that is completed with a support benche that serves as both an aesthetic and practical element.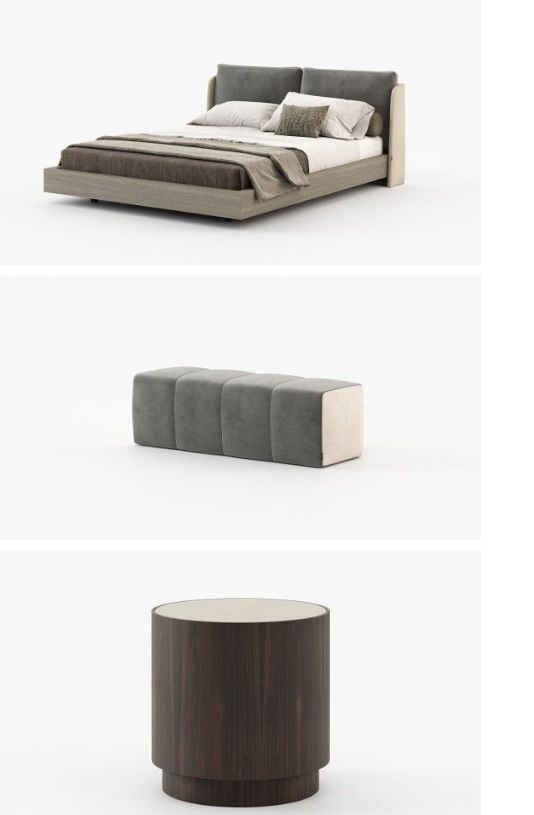 This contemporary piece, Brooke bed, is a stylish addition to any bedroom. It features a wooden base structure and an upholstered headboard for a sleek silhouette. A bed like this is a great option for fulfilling the important role of being restful retreat in understated style.
The Charlie bench is a stand-out bench, sure to be an excellent addition to any home or setting as a unique accent piece. Fully upholstered in soft fabrics it will look great placed next to your living room's window or at the bottom of your bed.
Gold side table is a simple furniture piece with a curved design and high-end materials. This timeless item is a must-have for classic living rooms.