We've all certainly confused modern style with contemporary interior design at some point, and while they share some characteristics, contemporary home decor stands on its own. The contemporary design style is classic yet always on trend and timeless, thanks to a light-handed, spare approach to decorating that ensures it will never appear outdated.
The Difference Between Modern and Contemporary Interior Design
You would think that these two styles are interchangeable because they both describe the modern design, yet they are not. The nice part is that once you understand these nuances, designing your interior projects will be much easier.
The new millennium is where contemporary interior design ideas came to the forefront. Strictly speaking, contemporary refers to anything of the present moment.
But let's understand what sets them apart:
Modern Style

: The historical period from the early to mid-twentieth century is referred to as "modern design." The style foreshadowed modern design, with notable figures such as Le Corbusier, Charles and Ray Eames, and Florence Knoll contributing. At the height of the contemporary art movement, Scandinavian and German Bauhaus design impacted modern design.
Contemporary Style:

Unlike modern design, contemporary design is constantly developing to reflect current design trends. It incorporates elements of modernism, minimalism, Art Deco, and other worldwide styles without emphasizing anyone. Though the contemporary style is ambiguous, there are a few elements that help define the style: Neutral colours, stark simplicity, precise lines, and organic forms are among the striking elements.
SO, THE MAIN DIFFERENCE ARE: Contemporary is, by definition, what's happening in design at this very moment in time. This definition makes it more fluid and harder to pin down. Modern design, on the other hand, has a distinguishable aesthetic that emphasizes crisp lines, warm neutrals, and balance.
4 Interior Designers who are shaping the actual Contemporary Interior design

Brooklyn-based artist Fernando Mastrangelo creates without boundary. His experimental works include furniture, architecture, interiors, sculpture, and painting. Certainly, Mastrangelo shows just how sculptural functional pieces can be.

Contemporary design reconnects humans to nature. And through landscape design, Lily Kwong highlights the versatility of botany and horticulture in constructed spaces. Her designs revive the urban sphere with living masterpieces.

Essentially minimalist, John Pawson's interiors follow in modern interior design's footsteps. For instance, each element of his designs is carefully considered and veers off from what is merely comfy or ornamental. The result is perfectly balanced, minimal, and welcoming above all.

Known as the "Queen of the curve", Zaha Hadid is one of the most experimental architects of the 21st century. Above all, she's the first woman to receive the Pritzker Architecture Prize. Her broad range of design includes the London Aquatics Centre, the Broad Art Museum in the US, and Galaxy SOHO in China.
WHAT IS CONTEMPORARY INTERIOR DESIGN?

Contemporary Interior Design Style Furniture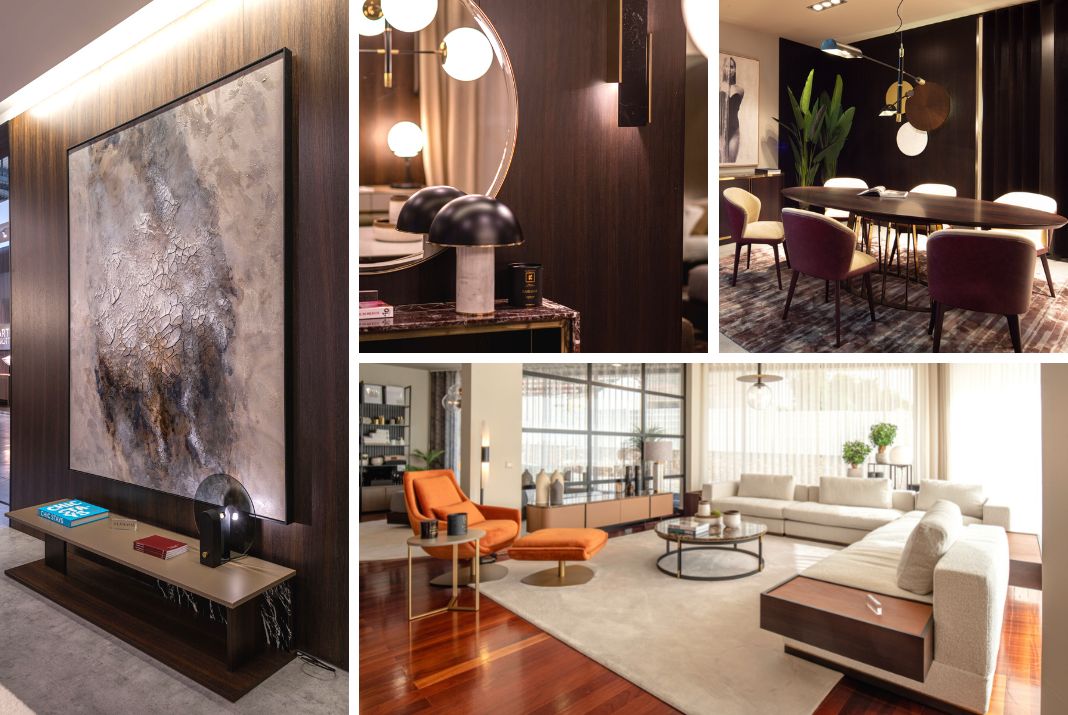 Less is more when it comes to contemporary interior design. Choose contemporary home furniture that is conversation starters while remaining simple, with smooth, clean, geometric forms and straight lines. Consider neutral colours and finishes, natural materials, and plain surfaces.
For upholstered elements in a contemporary living room, choose neutrals in textured natural fabrications such as wool, cotton, linen, silk, and jute, and add pops of colour with throws and pillows that avoid strong patterns as clean and concise as the atmosphere you should be aiming for.
Contemporary Interior Design - Room by Room
Contemporary Style Dining Room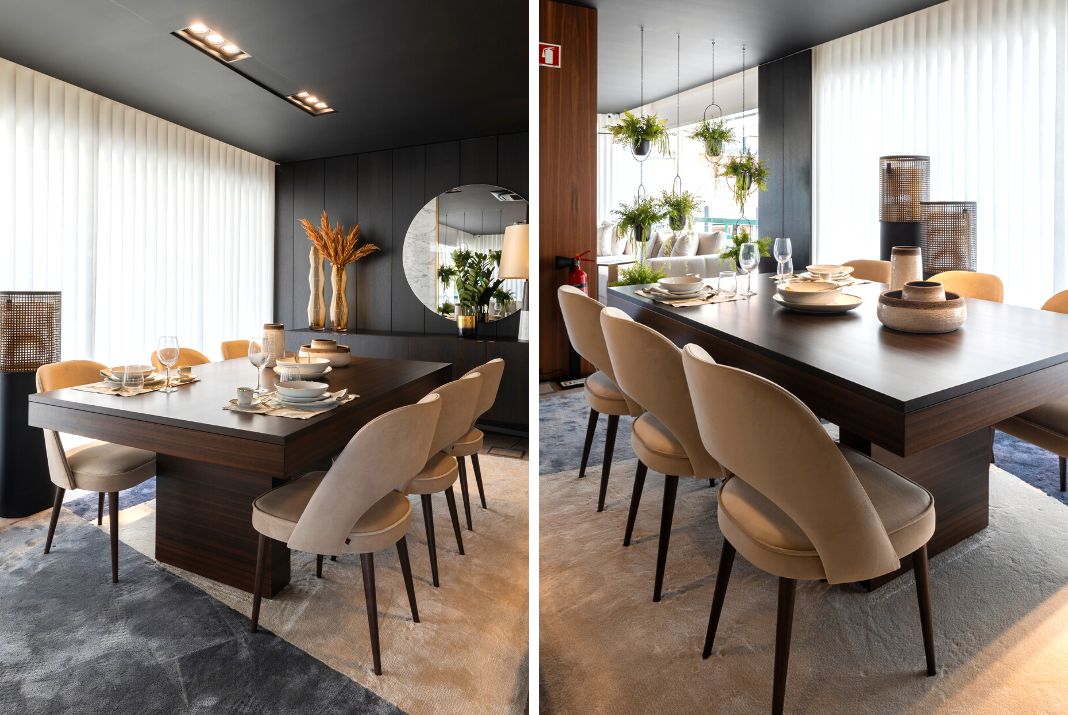 This room is all about a large table, structured seating, and symmetry. Choose a contrasting large table with a glass or stone top, matching seats, and a console to tie everything together.
Key focal points:
Simple yet modern dining tables.

Symmetry

Soft Colours
Contemporary Style Living Room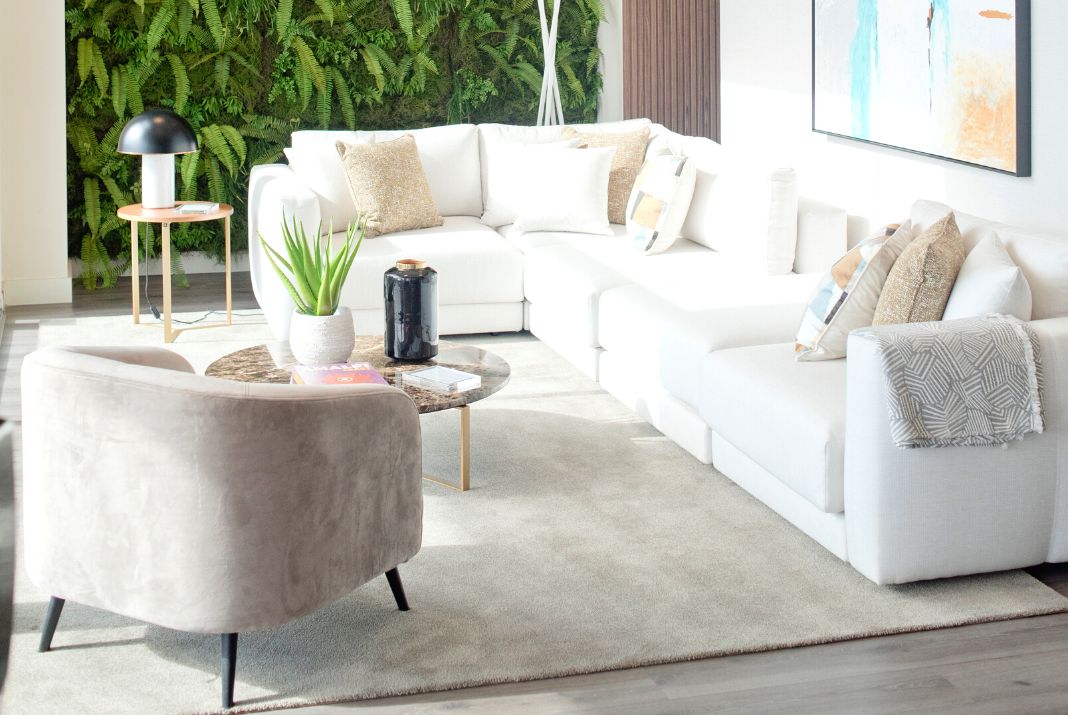 Remember that a rigorous devotion to modern minimalism, attention to line and space, geometric shapes, and a rigid yet well-considered colour palette that is easy on the eye are what make a contemporary style home memorable.
The living room is the ideal place to fill in the details of your customers. Don't lose the focus on keeping a minimalist style to complement the original idea of ​​contemporary style.
Key Focal Points:
Geometrical sofa

Consistent colour pallet

Modern armchair
Contemporary Style Bedroom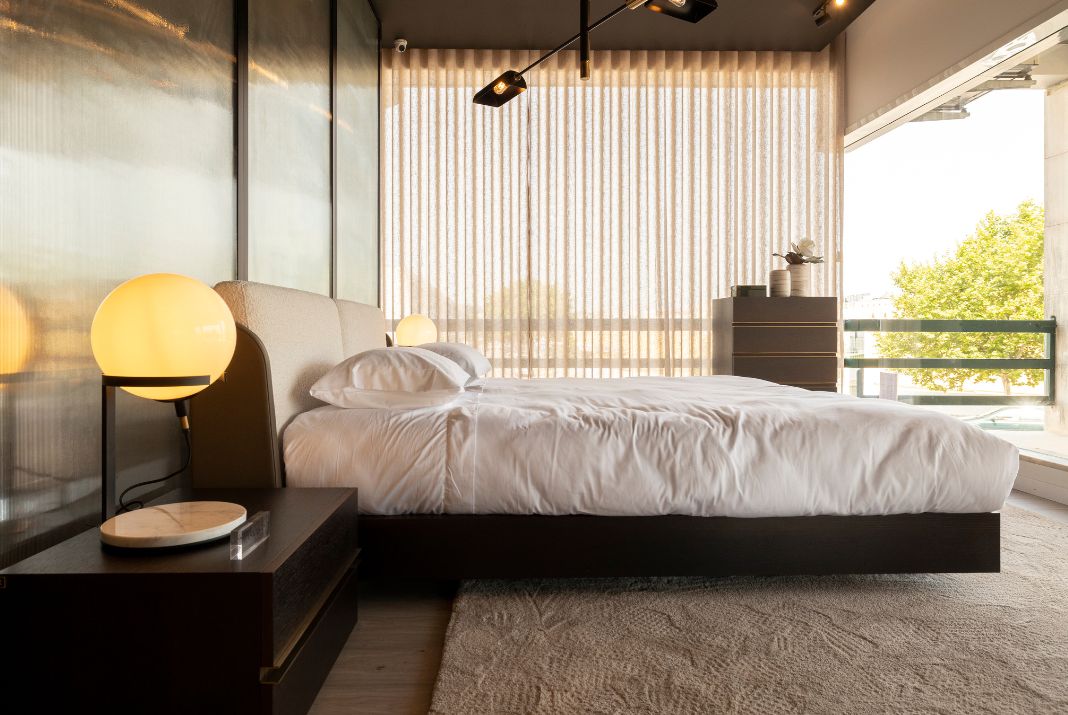 For the bedroom, opt for clean, straight lines that exude a sense of wealth via exquisite design, and incorporate tonal fabrics for added warmth and comfort. Bedding, rugs, and accessories that exude a calm feeling of polished luxury.
Key Focal Points:
Natural fabrics

Minimalist Bed

straight lines
When comparing modern vs contemporary interior design, you'll see they have many similarities but also key differences that make them easy to tell apart. Because modernism greatly influenced contemporary design, interiors from the two centuries have a few elements in common.