Creating the perfect home decor can be a daunting task, but with a little guidance and a solid checklist, it can be accomplished with ease. This article will walk you through the most important elements to consider when styling your home, from selecting the perfect colour scheme to finding the perfect lighting fixtures.

TABLE OF CONTENTS:
Key features:

Decide on your Style

Colour Schemes

Furniture

Lighting

Accessories

Scents/ smells



Room by Room

The Entrance Hall

The Living Room

The Dining Room

The Kitchen

The Bedroom

The Home Office

Outdoor/ patio/ backyards
KEY FEATURES

Decide on your Overall Style
Consider the overall style of the room. Are you drawn to a more traditional or a more modern aesthetic? This will help to guide your choices when it comes to furniture and decor.
If you're drawn to a traditional style, look for pieces with ornate details and rich, warm colours. If you're drawn to a more modern look, opt for sleek, clean lines and cool, neutral colours.
1. Colour Scheme
The colour scheme of your home is the foundation upon which all other decor elements will be built. When selecting a colour scheme, it's important to consider the overall style of your home and your taste. Neutral colours such as beige, white, and grey are great options for a timeless, classic look. Consider using bold, contrasting colours such as black and white or navy and gold for a more modern design.
2. Furniture
The furniture in your home should not only be functional, but it should also reflect your style. When selecting furniture, consider the overall style of your home, as well as the size and layout of the room. For example, a large, open living room would benefit from a sectional sofa, while a small, cosy den would be better suited for a loveseat.
3. Lighting
Proper lighting can make or break a room. When selecting lighting fixtures, consider the overall style of your home, as well as the size and layout of the room. For example, a large, open living room would benefit from a chandelier, while a small, cosy den would be better suited for a table lamp.
4. Accessories
Accessories are the finishing touches that bring a room together. When selecting accessories, consider the overall style of your home, as well as the size and layout of the room. For example, a large, open living room would benefit from a large piece of wall art, while a small, cosy den would be better suited for a collection of small, framed prints.
The Entrance Hall Essentials Checklist: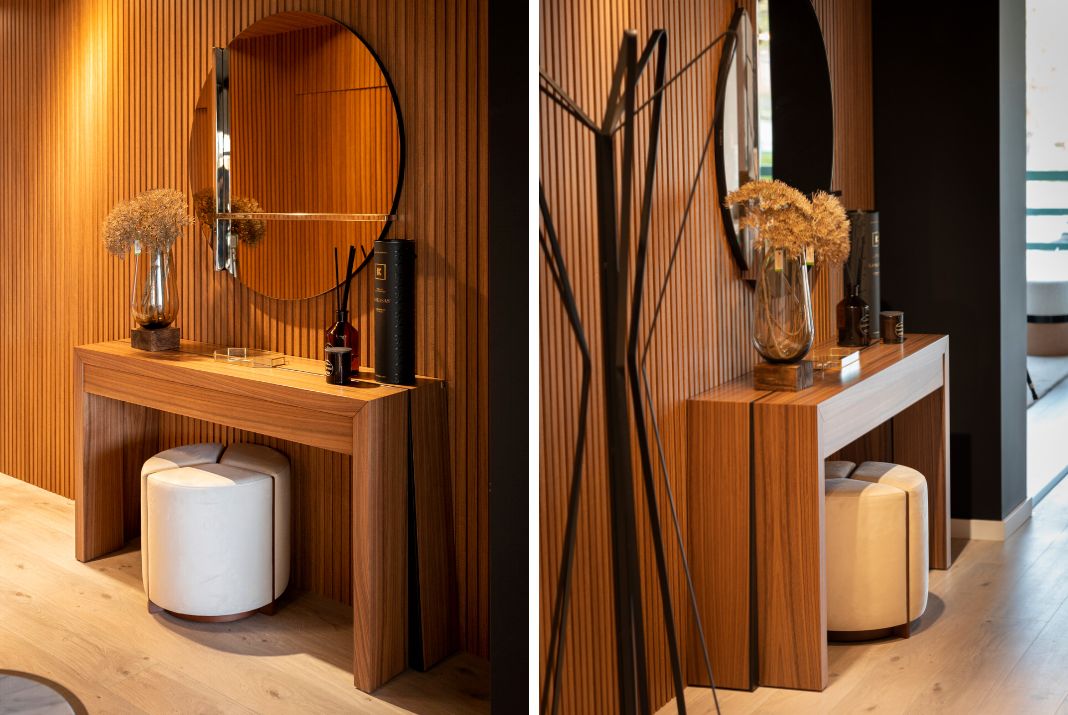 Laskasas Showroom
Functionality

Lighting

Decor

Flow
The entryway of a home is often overlooked, but it plays a crucial role in creating a welcoming and functional space. It's the first thing guests see when they enter your home, and it sets the tone for the rest of the living space.
A well-designed entryway should be both visually pleasing and practical, providing a space to store essentials and keep the rest of your home organized. In this article, we'll explore the importance of a well-designed entryway and some key elements to include in your design.
Functionality
The primary function of an entryway is to provide a space for storing essentials such as coats, shoes, bags, and keys. Having a designated place for everything is essential for keeping the rest of your home clutter-free. Incorporating storage solutions such as a coat rack, shoe rack, or a set of hooks for hanging outerwear will help keep the space organized. If space allows, a small bench or storage ottoman can provide a place to sit and put on shoes, as well as additional storage for bags and other items.
Lighting
Proper lighting is also important in the entryway. Not only does it create a warm and inviting atmosphere, but it also serves a practical purpose, helping you find your keys and navigate the space in the dark. A statement pendant light or chandelier can add visual interest, while a wall sconce or table lamp can provide task lighting.
Decor
While functionality is important, the entryway is also a great place to add your style and make a statement. A rug or a puff can add a pop of colour and texture, while a piece of art or a statement mirror can create a focal point. Fresh flowers or a small potted plant can add a touch of greenery and life to the space.
Flow
The entryway should also be designed with flow in mind. It should provide a clear path to the rest of the home, leading guests through the space seamlessly. Consider the layout of the entryway and how it relates to the rest of the living space.
The Living Room Essentials Checklist: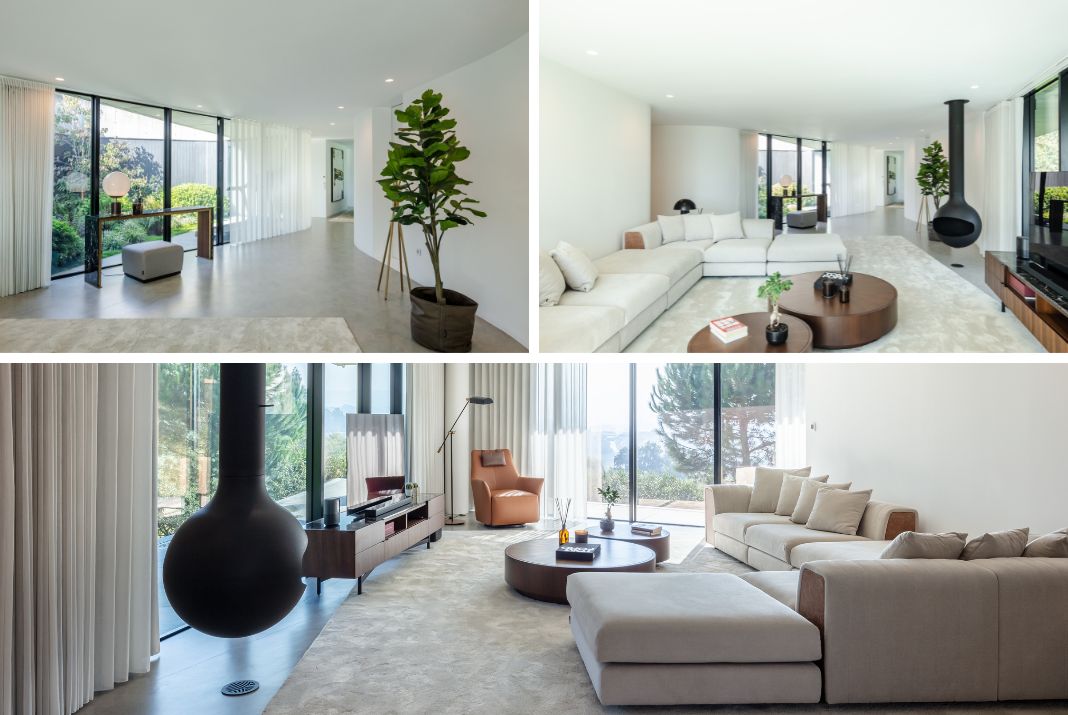 Casa Cabo de vila By Laskasas
Start with a Plan

Invest in comfortable seating

Coffee Table and Side Tables

Lighting is key

Area Rugs

Bookshelves

Bar Cart

Console tables

Accessorize

Storage can save you
Creating a comfortable and functional living room can be a daunting task. There are so many elements to consider, from furniture and lighting to accessories. But with a little planning and a clear vision, you can create a space that you'll love to spend time in. Follow this essential checklist and be one step ahead when it comes to decorating your living room.
Start with a plan
Before you start shopping for furniture or picking out paint colours, it's important to have a plan in place. Take some time to think about your style, your needs, and your budget. Consider the size and layout of your room and think about how you want to use the space. Do you need a lot of seating for entertaining guests, or do you mostly use your living room for relaxing and watching TV? Once you have a clear idea of what you want, you can start to make a list of the pieces you'll need to create your perfect living room.
Invest in Comfortable Seating
Your living room is a place where you'll spend a lot of time sitting, so it's important to invest in comfortable seating. Whether you prefer a plush sofa or a cosy armchair, make sure to choose a piece that's well-made and that you'll enjoy sitting in for hours on end. Consider adding a recliner or a rocking chair for added comfort, and don't forget about pillows and blankets to make the space even more inviting.
Sofas: The centrepiece of any living room is the sofa. Not only does it provide a comfortable place to sit, but it also sets the tone for the entire space. When choosing a sofa, consider the size of your room, the number of people you need to seat, and your style. If you have a small room, opt for a loveseat or apartment-size sofa. For larger rooms, consider a sectional or oversized sofa.


Armchair: Accent chairs are a great way to add extra seating to your living room. They can also be used to create a focal point or to complement the style of your sofa. When choosing accent chairs, consider the style of your room and the overall aesthetic you're trying to achieve. A pair of classic wingback chairs can add a touch of elegance, while a pair of modern slipper chairs can bring a contemporary feel.
Coffee Table and Side Tables
A coffee table and a couple of side tables are essential for holding drinks, books, and other items. They also provide a place to set down your remote or your glass of wine. Consider a coffee table with storage or a nesting set of side tables to save space. Their materials can also help set the tone for your overall living room design.
Lighting is Mandatory
Lighting is an often-overlooked element of a living room, but it's crucial for creating the right ambience. Consider adding a ceiling light, floor lamps, and table lamps to your space. Make sure to choose bulbs that provide warm and inviting light. The right lighting can make a huge difference in the overall look and feel of your living room.
Area Rugs
An area rug is a great way to define a space and add colour and texture to your living room. When choosing an area rug, consider the size of your room, the style of your furniture, and the overall aesthetic you're trying to achieve. A large, neutral rug can be used to anchor a room, while a smaller, patterned rug can be used to add visual interest.
Bookshelf
A bookshelf is a great way to add storage and display space to a room. Consider a floating bookshelf to save floor space or a ladder bookshelf to add a touch of rustic charm.
Bar Cart
A bar cart is a great way to add both function and style to a room. Consider a statement-making piece in a bold colour or pattern to store your bar essentials or a simple and classic cart for a more understated look. Use it to display your favourite bottles of wine and glassware and add some elegant accessories like decanters and cocktail shakers to complete the look.
Console Table
A console table is a versatile piece of furniture that can be used in a variety of ways. It can be used as a sofa table, a hall table, or even a small dining table. Consider a sleek and modern piece for a more contemporary look or a vintage-inspired piece to add character to your living room.
Accessorize
Once you have the furniture and lighting in place, it's time to add the finishing touches. Think about adding a rug to define the space, or a gallery wall of artwork to add personality. Consider adding some plants or flowers to bring a touch of nature into your space.
Add Storage
Finally, make sure your living room is functional by adding storage. Consider adding a bookcase or shelving unit to store your books and other items or add a media console to hold your TV and other electronics.
SEE HOW THE PROS DO IT: LIVING ROOM: INSIGHTS FROM PROS ON HOW TO DECORATE
The Dining Room Essentials Checklist:
Project by: FCI LONDON x SMART PROJECTS UK
The Dining Table

Dining Chairs

Lighting

Decorations and Accessories

Storage Solutions

Table Linens
When it comes to designing and decorating your home, the dining room is often a space that is overlooked. However, it is an important room in the house as it is where we gather with family and friends to share meals and make memories. To create the perfect dining room, there are a few essentials that you should consider.
The Dining Table
The dining table is the focal point of the room, and it should be sturdy and able to accommodate all your guests. Consider the size of your room and the number of people that you typically entertain when selecting a table. A round table is great for small spaces and intimate gatherings, while a rectangular table is better for larger groups and open spaces.
Dining Chairs
Comfortable and stylish dining chairs are a must for any dining room. Not only do they provide seating for your guests, but they also add to the overall aesthetic of the space. Choose chairs that complement the style of your table and are comfortable to sit in for long periods.
Lighting
Proper lighting is crucial for creating the perfect ambience in your dining room. A chandelier or pendant light above the table is a great way to add elegance and sophistication to the space. In addition to overhead lighting, consider adding table lamps or wall sconces to provide additional light and create a warm and inviting atmosphere.
Decorations and Accessories
To complete the look of your dining room, consider adding decorations and accessories that reflect your style and taste. A statement piece of art on the wall, a colourful area rug, or a collection of vases can add visual interest and personality to the space.
Storage Solutions
A dining room is not only a place to eat but also a place to entertain. To make sure your space is organized and functional, consider adding storage solutions such as a sideboard or buffet. This not only provides a place to store your dishes but also gives you additional surface space for serving and displaying food.
Table Linens
Table linens are an easy and affordable way to add colour, texture, and personality to your dining room. They also protect your table from scratches and spills. When choosing table linens, consider the style of your space and your taste. For a formal dining room, consider elegant linens in neutral colours. For a more casual space, consider colourful and patterned linens.
The Kitchen essentials checklist: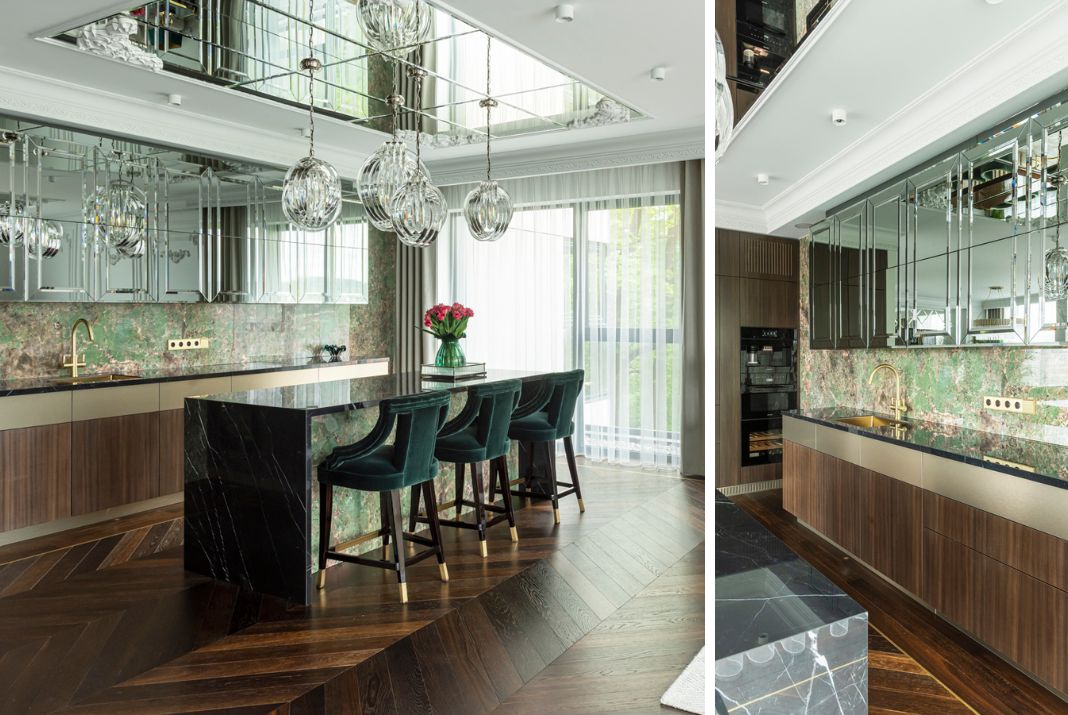 Project by: Clé de Maison
Custom Cabinetry

Natural Lighting

A Large Pantry

A Breakfast Nook

Make a Statement with a Backsplash

Add a Kitchen Island

Incorporate Smart Technology

Don't Forget the Finishing Touches
A dream kitchen is not just functional, but also beautiful and inviting. More than just choosing the colour of the walls, cabinets, or everyday-use appliances are involved in the interior design process of your kitchen. Knowing the required distance between two kitchen counter rows or the appropriate height for a breakfast bar is crucial.
Custom Cabinetry
Custom cabinetry is a must for a dream kitchen. It allows you to maximize storage and customize the layout to suit your needs. Choose from a variety of finishes and hardware options to create a look that is uniquely yours.
Natural Lighting
Natural lighting is key to a bright and welcoming kitchen. Consider installing large windows or skylights to bring in plenty of sunlight. A solar tube can also be a great option for dark kitchens.
A Large Pantry
A large pantry is a lifesaver in the kitchen. It provides ample storage for dry goods, small appliances, and cooking equipment. Choose a pantry that is easy to access and organize, such as one with pull-out shelves and a lazy Susan.
A Breakfast Nook
A breakfast nook is a cosy spot for enjoying morning coffee or a quick meal. Choose a corner of the kitchen and add a built-in banquette with storage underneath. A round table and a few comfortable chairs will complete the look.
Make a Statement with a Backsplash
A backsplash is a great way to add a pop of colour and pattern to your kitchen. It not only protects the wall from spills and splashes but also serves as a focal point. Consider using a bold tile or patterned wallpaper to make a statement.
Add a Kitchen Island

A kitchen island is a great way to add both functionality and style to your kitchen. It not only provides additional counter space and storage but also serves as a gathering spot for family and friends. Consider adding a built-in sink or stovetop for added convenience.
Incorporate Smart Technology

Incorporating smart technology into your kitchen can make it more efficient and convenient to use. Consider adding a smart refrigerator, a voice-controlled lighting system, or even a touchscreen stove.
Don't Forget the Finishing Touches
Finally, remember to add the finishing touches to make your kitchen truly unique. Hang a beautiful piece of art, add fresh flowers or herbs in a vase, or even display a collection of your favourite cookbooks. These small details will make your kitchen feel personal and homey.
SEE MORE ABOUT KITCHEN TRENDS IN 2023: THE BEST SMALL KITCHEN DESIGN IDEAS FOR 2023
The Bedroom Essentials Checklist: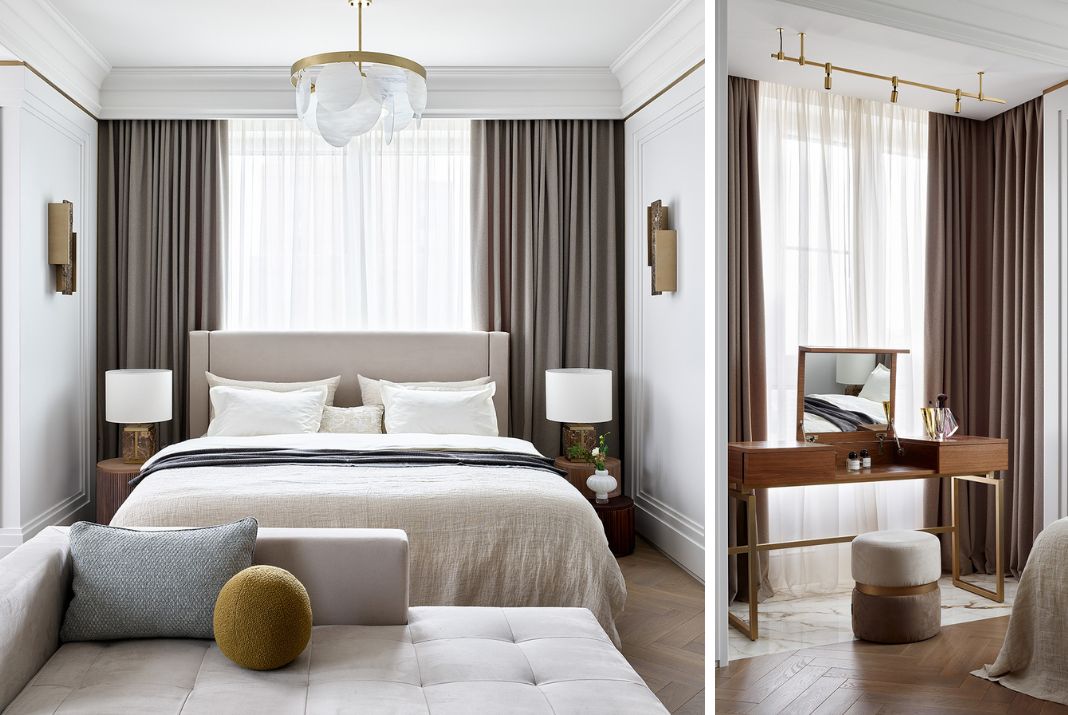 Project by: NINO ZVARKOVSKAYA X MOBILICASA

The Bed

Storage Pieces

Bedroom Seating

Accent Pieces

Lighting

Decorative Elements

Window Treatments
When it comes to designing a bedroom, it may appear straightforward at times, but requires careful consideration of the furniture essentials. From the bed to the storage pieces, each element plays an important role in creating a functional and aesthetically pleasing space.
The Bed
The bed is the centrepiece of any bedroom and it's essential to choose one that is comfortable and suits your style. Consider the size of your room and the amount of space you have when selecting the bed frame. A king or queen-size bed is ideal for a master bedroom, but if space is limited, a full or twin-size bed may be more appropriate.
When it comes to mattresses, comfort should be the top priority. Consider the firmness and support level that is best for you and try out different options in a store before deciding.
Storage Pieces
Storage is crucial in any bedroom. A dresser or chest of drawers will provide ample storage space for clothing and accessories. Consider the size and style that will best fit your room and personal taste.
A nightstand is also an essential piece of furniture for a bedroom. Not only does it provide a convenient spot for a lamp and reading materials, but it also offers additional storage space.
Seating is an important element in a master bedroom, as it provides a comfortable spot to relax, read, or watch TV. A chaise lounge or armchair is a great option for adding both style and comfort to the room.
Accent Pieces
Accent pieces, such as a mirror, artwork, and rug, can add a touch of personality and style to your master bedroom. A large floor mirror will not only reflect light and make the room appear larger, but it also serves as a functional piece for getting dressed.
Lighting
Good lighting is essential for creating a comfortable atmosphere in your bedroom. A combination of overhead lighting and bedside lamps will provide the perfect amount of light for reading, getting dressed, and winding down for the night.
Personalize your bedroom with decorative elements that reflect your style and personality. A few well-chosen items such as artwork, throw pillows, or a statement headboard can make a big impact on the overall look and feel of your room.
Window Treatments
Window treatments not only add a decorative touch to your bedroom but also serve a practical purpose. Curtains or shades can be used to block out light and provide privacy. Blackout curtains are a great option for those who prefer a darker room while sleeping.
SEE MORE ABOUT BEDROOM FURNITURE: CONTEMPORARY BEDROOM FURNITURE FOR A SLEEK AND MODERN DESIGN
The Home Office Essentials Checklist: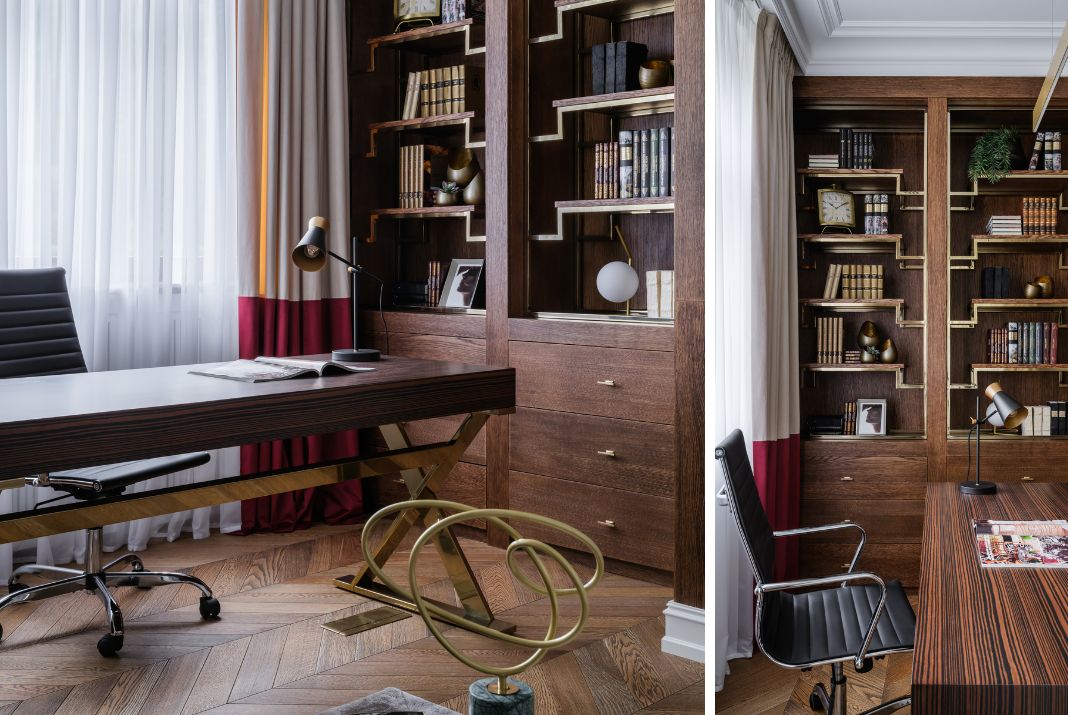 Project by: Zelensky Interiors
Comfortable Furniture

Storage

Desk

Natural Light
Make the space inspiring. One of the most significant characteristics that a home office must exhibit is creativity, whether through the accessories or the design of the office itself.
Office desks are no longer the focal point of an interior design project, now they are just a component. Nowadays, open space is necessary, as is a lounge area where a person can relax during breaks.
COMFORTABLE FURNITURE
Because long hours are spent at a home office, comfort is essential. Chairs must provide adequate back support. As a result, adjustable chairs remain the ideal option for workplace interior design. And gone are the days when adjustable chairs were big and unattractive!
There are numerous attractive office chairs available today. Just browse our list and you surely will find one Office Chair that will suit your project.
STORAGE
Storage is key in any office space. In particular, closed storage is essential to hide most of the clutter behind closed doors and give the space that polished designer look.
The interior designer here has several options, but probably the office desk is one of the easiest to bet on. In addition to the elegant design, you can also add functionality through storage.
DESK
A simple desk with a clean and inspiring design is more than enough. Despite losing the podium as a central piece, the desks continue to be important for the overall interior project.
Already more geared towards decoration, the desk must have a minimum of paraphernalia on top, to facilitate the entire creative process of those who work on it.
Natural Light
Workspace quality is becoming increasingly important in workplace interior design. And natural light is at the top of the priority list! Natural light has numerous health and mood-boosting benefits, and everyone should have access to it!
Large floor-to-ceiling windows are a typical way to infuse workplace spaces with natural light these days. Translucent internal walls are another technique to allow light to move through the area and make the most of the sun!
CHECK MORE ABOUT HOME OFFICE FURNITURE: HOME OFFICE: THE BEST FURNITURE
The patio/Outdoor Essentials Checklist: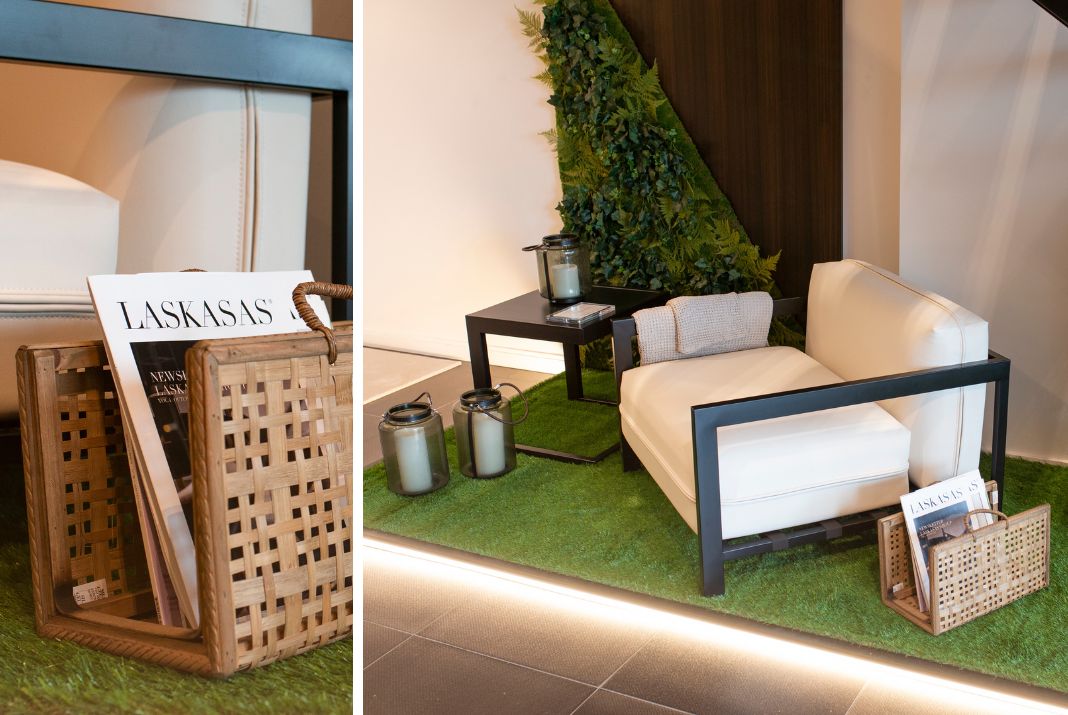 Laskasas Showroom
Outdoor Dining Set

Patio Sofa

Conversation Set

Swing or Glider Chair

Hammock or Hanging Chair
Outdoor Dining Set
Add a stylish dining set to your patio that can accommodate family and friends. Look for furniture pieces featuring comfortable chairs, as well as durable tables with umbrella holes if you're looking to provide some shade from the sun during your outdoor meals.
Other important features to look for include weather-resistant materials such as teak or aluminium that can withstand the elements.
Patio Sofa
A comfortable sofa or a lounge chair can be the perfect spot to sit and relax with friends after a long day. Look for one with plush cushions, so you're comfortable as you enjoy your time outdoors. Choose from a traditional-style couch or opt for something more modern like a rattan-style set with robust pillows.
Many patio sofas and lounge chairs come paired with coordinating side tables, while some even double as storage units that are designed to house items inside them.
Conversation Set
Creating an inviting atmosphere in your outdoor living space requires a conversation set. Place a couch, two chairs and a table in the same area to create a place for your friends and family to sit and talk. If seating is limited, you can add pillows or bean bags as extra seats.
A conversation set streamlines the space and provides you with enough seating for any size gathering. Consider adding water-resistant sun-proof covers for protection during inclement weather.
Swing or Glider Chair
A swing or glider chair is a must-have for any outdoor living space. Whether you prefer a traditional swing chair or a contemporary glider, these chairs instantly add character and charm to your patio. Not to mention they are incredibly comfortable!
They provide a great spot to relax and admire the beauty of nature while enjoying the fresh air. Swing chairs range from classic wooden designs to modern metal swings with weather-resistant cushion fabric, making them perfect for any outdoor style.
Hammock or Hanging Chair

A hammock or hanging chair is great for creating an inviting area to snuggle up with a good book. Hang your hammock between two trees or invest in a secure stand and add one to the corner of your patio. Hammocks and hanging chairs range from bohemian canvas designs to simple wooden frames and provide a cosy spot for daydreaming on sunny afternoons.
How can a furniture supplier help you?
A recent survey estimated the worldwide furniture industry is worth more than $330 billion. Choosing the right supplier to provide you with home or office furnishings can be a daunting undertaking in such a huge market.
If you are looking for the ideal furniture supplier for your store or to help you with your next project, Laskasas can help you. We ensure that all these points are followed by our team, where all customers receive personalized support to help them with any doubts and problems that may arise.
CONSIGLIERE SUPPORT
One-on-One personalized advice is available to help you through the design and buying process. We offer you hundreds of ways to customise and make sure you don't get overwhelmed by a sea of choices, our Trade Project Specialists are here to guide you.
Want to open a new flagship store or having trouble finding that perfect piece for your project? Look no further.
CUSTOM-MADE FURNITURE
Most furniture suppliers brag about a couple of customisation options. Customisation is at the heart of Laskasas, allowing you to select the exact look that suits your residential and commercial projects.
From upholsteries to woods and dimensions, you can rest assured knowing that you can meet any client's needs through our wide selection of items and styles. Get unique pieces for your project, with over 100 customisation options available. Our design, your pieces.
TRADE PROGRAM
If you've looked at a trade account application before and felt overwhelmed, you're not alone. Some of the questions don't do any favours to small or new businesses and there's little in the form of help to complete them.
We want you to spend your time on more valuable things, so we try to make this process easier and faster for you. The application can be made right on our website and then one of our Trade Project Specialists will be assigned to you and promptly ask you for the VAT Identification number/Tax ID, company's name, and address. And that's it! You're in.
LEARN HOW TO CHOOSE THE RIGHT FURNITURE SUPPLIER FOR YOUR BUSINESS
WRAP UP
As you can see, decorating a home from scratch may seem like a daunting task, but with a little planning and attention to detail, you can turn your space into a beautiful, functional home.
Remember, a neutral colour scheme and a focus on key furniture pieces are the foundation for a successful home decorating project. From there, you can add accent furniture and decor, experiment with different styles and details, and have fun with the process. With these tips in mind, you'll be well on your way to creating a home you'll love.