January is a great time to be passionate about interior design. Maison et Objet will always be present in Paris, with all its glamour and splendour. All visitors will be able to see the interior design trends that 2023 has to offer.

Let's start by introducing what is Maison et Objet: Maison et Objet is a home and interior design industry trade fair. It is held twice a year, in January and September, in Paris, France. At the fair, exhibitors from around the world showcase furniture, lighting, textiles, and accessories for the home, and thousands of buyers, designers, and other industry professionals attend to see the latest trends and products.
How will be the Schedule of Maison et Objet?
The event will be open from Friday through Monday from 9:30 am to 7:00 pm, apart from Tuesday, which closes a little early (6:00 pm). An incredibly handy map of the locations of M&O can be found below. The event's various locations are represented on the map, including its two primary sections, MAISON and OBJET. While the latter is primarily a concept store ideal for retailers, the former is mostly focused on interior design.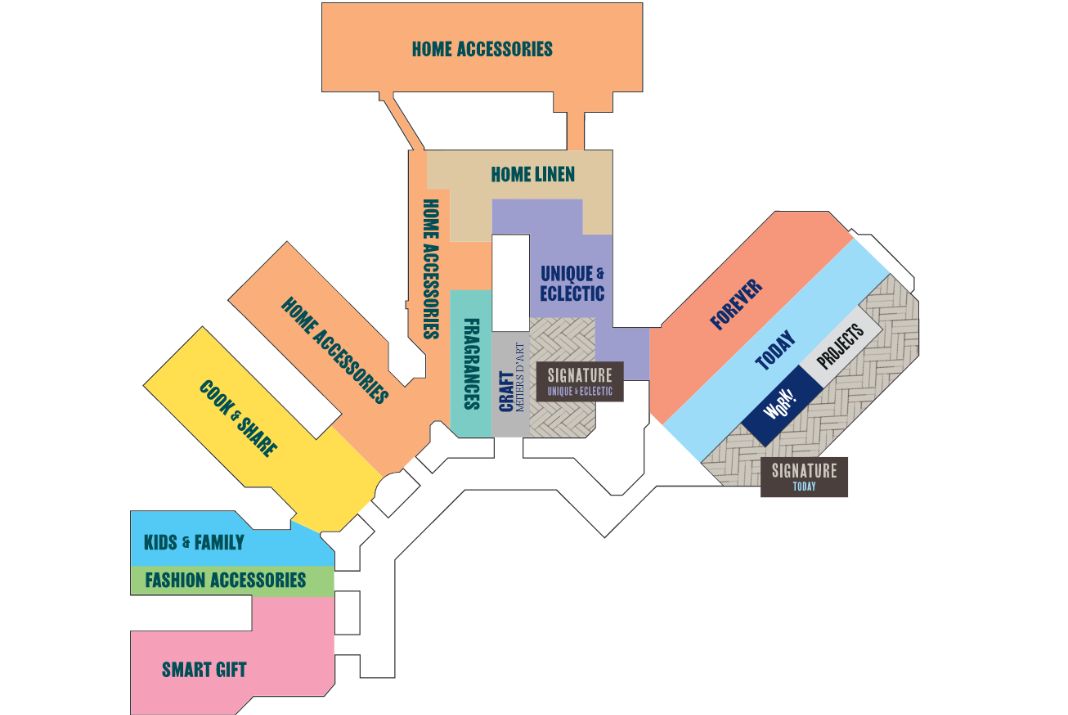 WE'LL ALWAYS HAVE PARIS

Laskasas will always have Paris, especially Maison et Objet. And we are back for another year. We invite you to visit us at Hall 6, Stand G102 - H101, where you can enjoy a fully furnished entrance hall, living room, dining area and a meeting room.

Meet our stand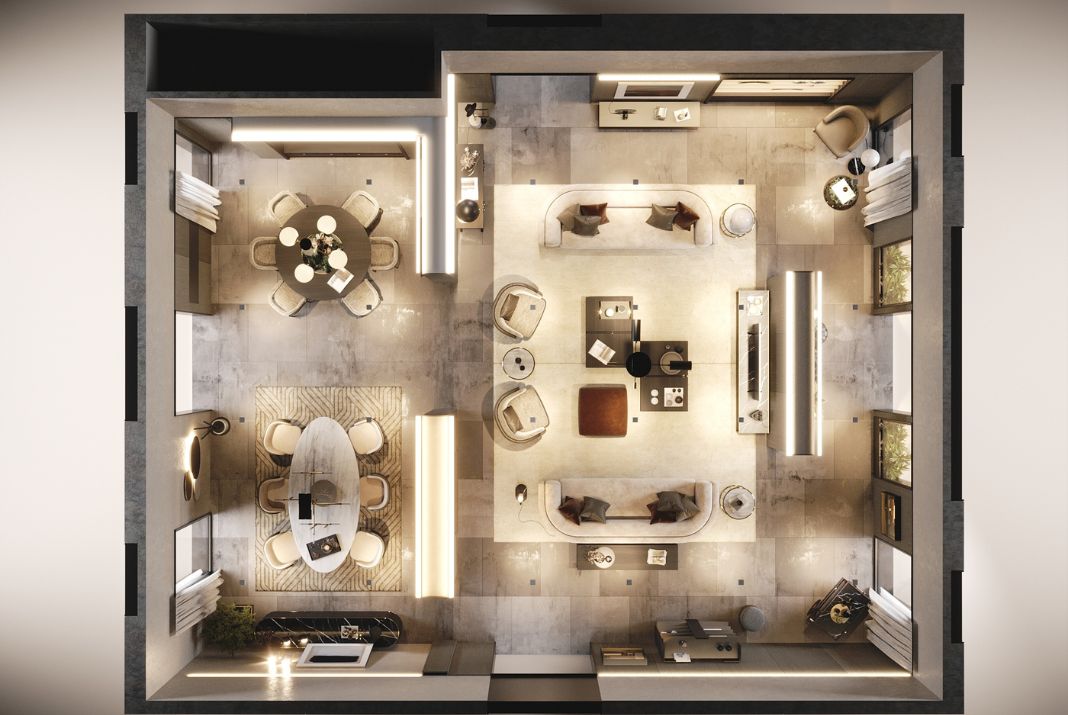 At a furniture exhibition, there is a lot of information to take in, so we prefer to make sure that our visitors are ready. The main layout of our stand is seen in the image above; each room's split has been designed to provide a logical path between them.

The entrance hall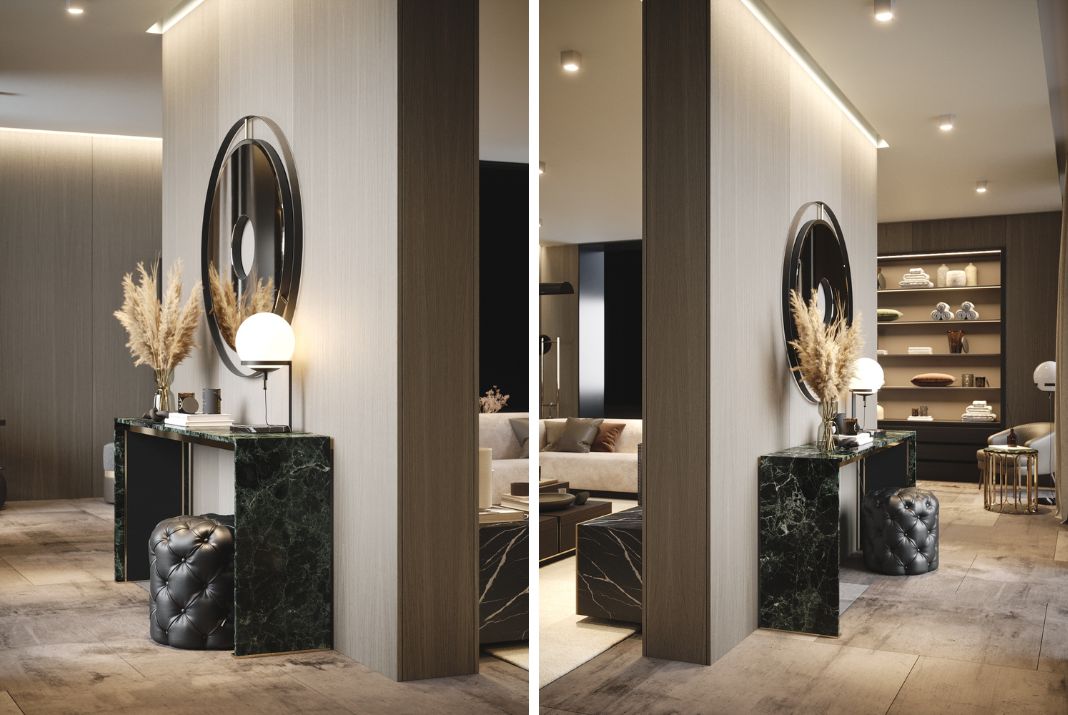 The entrance is the welcome centre for anyone. Ours is made up of 2 iconic Laskasas pieces.
Jill console has outdone all the tests needed to become a brand icon. A stunning marble console designed for luxury spaces, where the materials and finishes take the centre stage. In this specific setting, this furniture design is paired with a pouffe, a mirror, and a table lamp, creating the perfect atmosphere for a welcoming entryway.
Paris's lifestyle, attitude and history live in each detail of this pouf. A piece designed for the most romantic spaces, it can upscale the environment of your entrance hall.
The living room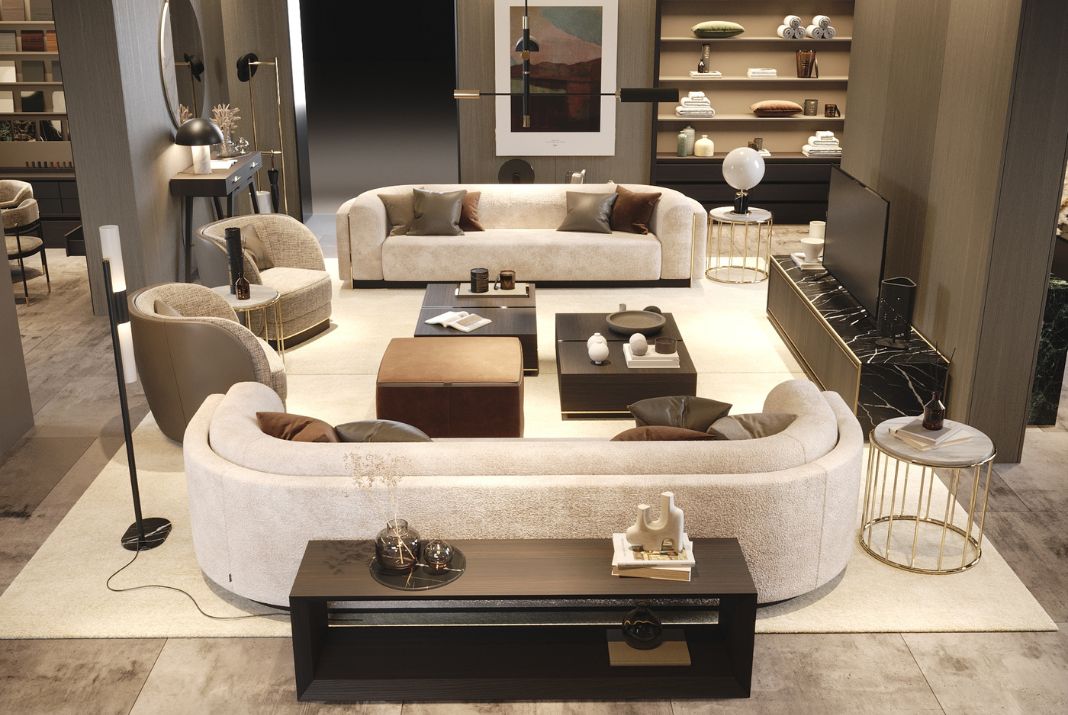 The living room is made up of a sober contrast of light and dark colours, resulting in an appealing and elegant design. More important than the pieces themselves, Laskasas likes to demonstrate ideas, innovation, and a context behind each project, as is the example of this living room.
The Wellington sofa takes the main feature award in the living room area at our stand, but it does not shine alone. Complemented by a pair of the iconic Ambrose armchairs, the seating piece offers a sense of calmness and overall sophistication to the setting. It is one of those sofas that you didn't know you needed until you have it. This fully customisable seating piece, paired with other curved pieces, will transform the living area of any interior design project, adding sophistication and comfort.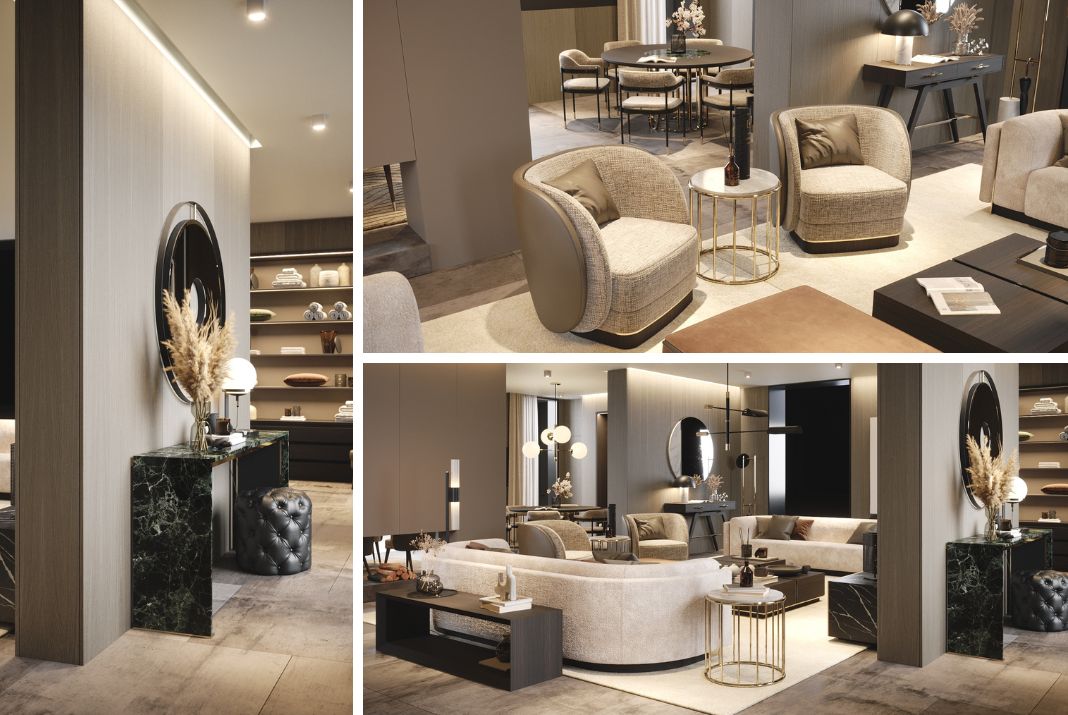 The Ambrose Armchair is the representation of a fine line that separates an edgy furniture design from a classy, romantic one. A sleek convex back features a discreet wooden base to support a majestic, upholstered armchair with a comfortable seat.


The dining room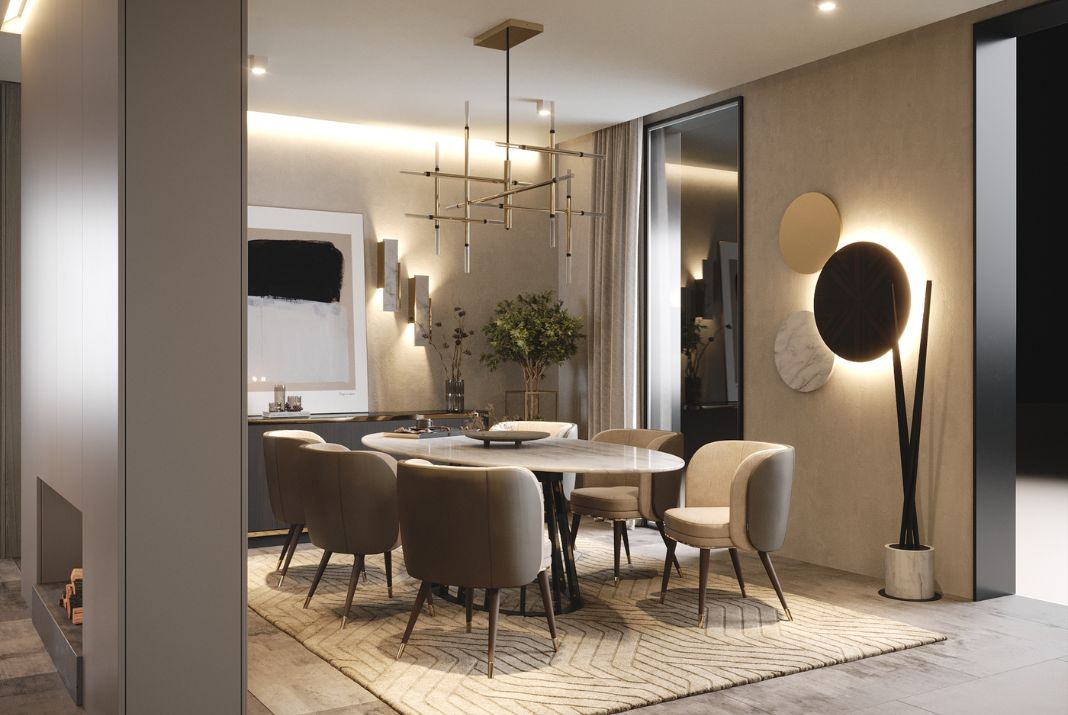 As with any dining room essential, the table must check all the boxes when it comes to stability, balance, and much more. Ann dining table offers all those features, and, at the same time, it is a statement for a contemporary dining area. The cylindrical-shaped base adds a refined twist to this timeless table, contrasting with the oval countertop.
With a convex back and sturdy legs, the Ambrose chair can be paired with most dining tables. This chair not only offers all the important features of a long-lasting chair, but it also offers a design component that makes it an eye-catching piece.
The Meeting Room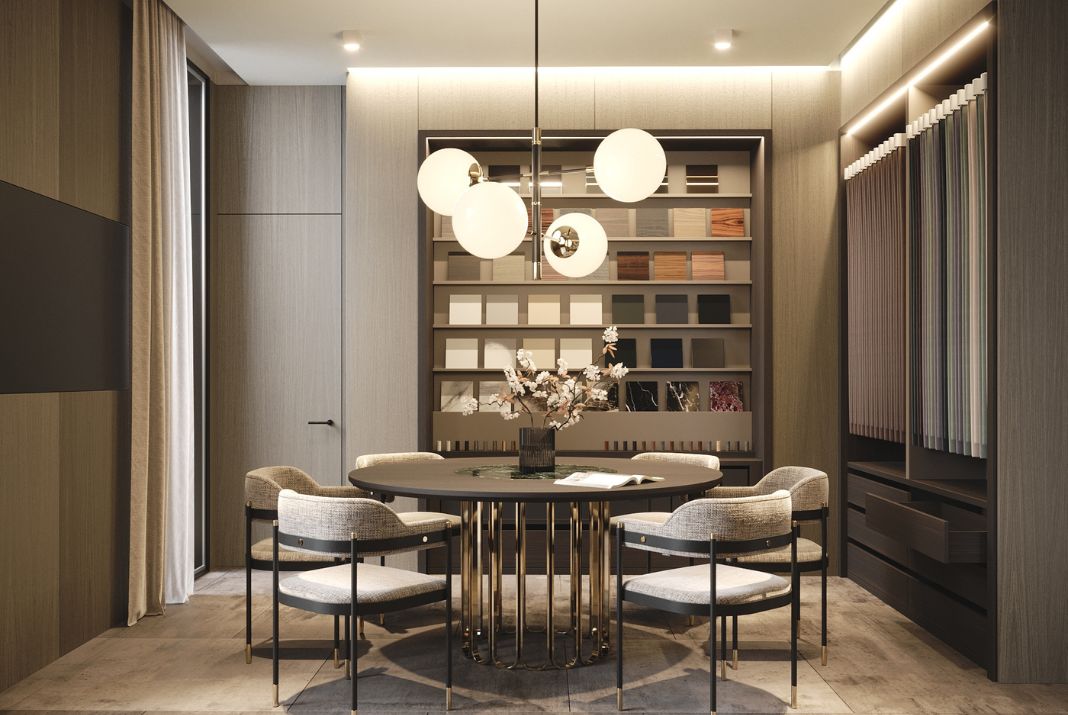 Mainly used as a dining table for most projects, Cheryl dining table is the star of this meeting room. Paired with the simplistic yet sophisticated Dale chair, the table can be used in both settings, ensuring a sophisticated flair to the environment. It's here that you can meet our trade project specialist and play with our materials and finishes.
Come meet us at Hall 6, Stand G102 - H101, we will be waiting for you!